HOW AE AEROSPACE IS MAKING WAVES IN THE INDUSTRY
AE AEROSPACE HAS BEEN SERVING THE PRODUCTION AND AFTERMARKET NEEDS OF THE AEROSPACE INDUSTRY FOR OVER TWO DECADES, AND IS RENOWNED FOR ITS HIGH PRECISION COMPONENTS AND FAST REACTION TO MARKET CHANGES. THROUGH BOTH CIVIL AND DEFENCE PROJECTS THEY PRIDE THEMSELVES ON OFFERING A COMPLETE ENGINEERING PACKAGE, FROM CONCEPT AND EXECUTION THROUGH TO DELIVERY.
While many of AE Aerospace's projects are carried out directly to client specification, they have excelled at reducing the amount of time it takes to get a product to market without compromising on quality – and for many customers, that's where the key value lies.
SO WHAT'S NEXT FOR THE COMPANY?
One of the things that sets the company apart from other aerospace sub-contractors is the company's devotion to staying ahead of the curve. For customers in the industry, cutting production time isn't always about cutting costs – it's about getting ultra-high quality products to market quickly, enabling customers meet market demands and client expectations. This is something AE Aerospace will continue to focus on heavily in the years to come.
A great deal of research, development and investment has gone into new product development at the Birmingham-based company, and they're upping the pace month-by-month. Now, customers can expect the gap between market readiness levels (MRLs) to shrink dramatically. Of course, the additional technology, staff and machinery this requires comes at a cost, but for customers this is offset by a dramatic improvement in their bottom line as they're able to get products into a fast-moving market quicker than their competitors.
Part of this innovation comes in the form of servitisation and the 'Glass Factory' concept.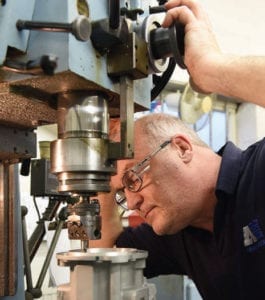 This will take place in three key stages. The first will allow AE Aerospace themselves to see inside the factory to better predict and plan for events on the shopfloor. This will take the pressure off the walkabout staff whose job it is to spot bottlenecks and areas for improvement. As part of this first stage, AE Aerospace will implement its automated Capacity Planning and Production Scheduling System will help them to streamline their production efforts.
Stage 2 will allow customers to see the dashboard so they can have real-time updates on how production is going and, crucially, keep an eye on dispatch times. Running orders can also be changed via the portal if clients' needs shift, giving customers unparalleled control and flexibility.
The final stage aims to completely remove any barriers between AE and their customers. Machines will be provided by the hour, guaranteeing availability and run times, and customers will have their own dedicated production cell which they can influence and control remotely.
The Glass Factory concept, in conjunction with ongoing product development and data driven innovation, puts AE Aerospace well on the road to being an Industry 4.0 enabled business.