THE PICTURE IS PATCHY AS BREXIT CASTS A SHADOW
Nervousness mixed with optimism: that sums up the mood among manufacturers as they contemplate the investment picture in 2019, as Brexit looms.
Over the past year many industrial groups have put off capital spending or slowed down existing commitments, due to concerns about the potential economic fallout from the planned exit from the EU on March 29.
But others are pressing on, convinced that their businesses are in good enough shape to take advantage of decent trading conditions, irrespective of any negative consequences from leaving the trading bloc. Some even believe that Brexit could turn out positively.
Potential problems in the event of a 'No Deal' situation include shortages of key manufacturing components due to customs dislocations; higher customs tariffs that could increase costs; reduced willingness of EU citizens to seek or retain work in the UK, which could hit engineer recruitment; and nervousness by big customers overseas in placing orders with UK enterprises.
Among the more confident manufacturers are those geared mainly to meeting UK demand, especially if their products are linked to fast growth markets. There are grounds for thinking that such businesses may find life easier after Brexit than more export-intensive counterparts and so are more likely to continue investments at a high level.
There are also some strong optimists who reckon that the UK may be in a good position post-Brexit to seek growth opportunities outside Europe, particularly in the US and Asia, free from restrictions posed by EU membership.
A survey in October of manufacturers' views on investment, conducted by the EEF industry association, showed a strong sense of caution.
Only a third of manufacturers said they planned to spend more on plant and machinery in the coming two years, down from roughly 50 per cent a year earlier. Nearly one in five companies are delaying decisions on capital spending until the Brexit outlook is clearer.
The circumspection follows several years when growth in investment in manufacturing was relatively strong. Capital spending in 2017 came in £29.3bn (at current prices); 7.7 per cent up on the previous year.
In the first half of 2018 spending was a strong £14.2bn, showing few signs of any downward trend. But it's important to point out that investments are a lagging indicator – they reflect decisions taken sometimes years in advance and changes in sentiment normally take a while to show up in hard data. Looking on the bright side is Brent Nicholls, manufacturing director of Wavin, a big maker of pipes and fittings for the building industry, with sites across Europe. Wavin is owned by Mexichem of Mexico and mainly supplies the UK.
Nicholls said his business would be "continuing to invest in the UK" in 2019 and 2020 after spending £25m since 2014, in improving and expanding its two British factories in Chippenham and Doncaster.
"Next year [2019] we are not anticipating any downward movement in customers' demand for our products. Leaving politics aside, the fundamental drivers to the UK market are the same as they were [before the EU exit decision in 2016]," Nicholls said.
Many other executives also sound a note of resilience.  Michael Gibbs is managing director of European Springs & Pressings, a Cornwall-based maker of industrial springs, owned by Swedish group Lesjöfors. In 2018 European Springs invested some £3m in new buildings, machines and technologies and expanded employment across two sites in Cornwall, adding another 20 people.
Gibbs said his company had been investing on the basis that its business was fundamentally strong and that neither its domestic or overseas markets would be significantly affected by the Brexit negotiations. Even though about half the output from the Cornwall plants is exported to the rest of the EU, Gibbs reckons his company is in a strong enough position to ride out any storms.
Stephen Lane, finance director of Xtrac, a big supplier of gearboxes for high performance cars and a leading member of the UK's successful Formula 1 racing sector, said he thinks demand will continue at fairly high levels "whatever form of Brexit" the UK experiences.
Most of his suppliers are UK based, reducing the risks of Brexit-related customs problems, while demand for Xtrac's products comes mainly from "niche" customers in motor racing who, even when they are based in the rest of Europe are unlikely, Lane reckons, to be dissuaded from trading with his company by Brexit repercussions.
On the back of these sentiments Xtrac is investing £22m over four years in expanding and upgrading its manufacturing base in Thatcham near Newbury.
While such "business as usual" messages are reassuring for those who hope Brexit will be a calm affair, they are in marked contrast to the alarm bells being rung at high levels throughout UK industry.
Signs of anxiety have come from some of the UK's biggest automotive and aerospace groups, which have voiced concern about the potential harm Brexit could deal manufacturers, through causes such as customs delays and higher tariffs.
Jaguar Land Rover, owned by India's Tata Industries, has been especially vociferous. Ralf Speth, the car maker's chief executive, warned in July 2018 that potential investments by his company of £80bn over five years were being put at risk by a Brexit deal that was bad for industry.
Similarly Airbus, the European aerospace giant, has spoken of the "severe negative consequences" that an EU exit could trigger; and late in 2018 the big German car parts group Schaeffler said it would shut two UK plants employing almost 600 people, citing Brexit as one factor among a number. It is moving production to plants in the US, China, South Korea and Germany as part of a strategy to improve efficiency by moving output closer to where its products are required, said Europe CEO, Jürgen Ziegler. The company plans to merge its industrial products' logistics centre in Sutton Coldfield, central England, with its automotive aftermarket base in Hereford, around 80 miles away.
Colin Bell, business growth director at the North East Local Enterprise Partnership, a government/industry group based in Newcastle upon Tyne, is in a good position to detect underlying views. His message about sentiment is not particularly reassuring.
Airbus' autonomous mobile robot is being trialled in production at the East Factory at Broughton, North Wales. Credit: Airbus
JaguarLandRover CEO Ralf Speth has been particularly vociferous in warnings about the consequences of Brexit. Credit: JaguarlandRover
Advanced Manufacturing Park. Credit: Wikimedia Commons
The LEP is among the partners in the International Advanced Manufacturing Park, an ambitious venture in Sunderland that could bring in as much as £400m in investments and create thousands of jobs. Suppliers to Nissan – the Japanese car maker whose own large factory is next to the site – could take over much of the plant while Bell is trying to interest many other businesses, based both in the UK and elsewhere, to set up operations similarly.
"We've had a lot of inquiries [about taking space in the site and interest is definitely there. But it is fair to say broad demand [for industrial space] has been dampened by the political climate. Many people are holding back until there is more certainty."
BROMPTON BICYCLES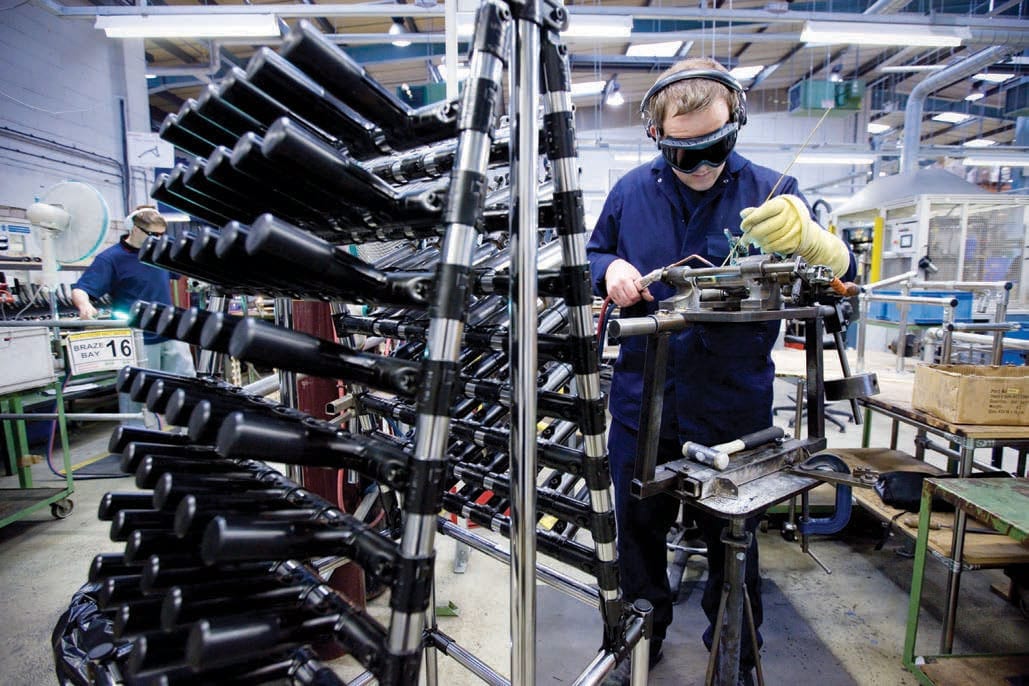 READY TO POP: BROMPTON BICYCLES WHEELS OUT AN UPBEAT ASSESSMENT OF DEMAND
For the past 15 years, Will Butler-Adams has kept under his desk a magnum of champagne – which he has vowed to open when he passes a production milestone. He says he is on track to open it in 2019, as his company seeks to capitalise on a multi-million-pound investment programme.
Butler-Adams is managing director of folding bicycle manufacturer Brompton Bicycle, which hopes to push annual production above 50,000 bikes this coming year, after hovering below this level for several years. On the possible fall out from Brexit he is relatively unconcerned.
 "On most scenarios I think we will be OK. On one reading of what will happen – if the pound falls so much as to make a big difference to our costs – the outlook for manufacturers could be good," he says.
A big part of Brompton's investment recently has comprised the £2.5m it's spent developing a new electric bike, in collaboration with the Williams motor racing firm, which has supplied much of the electric traction technology.
Another £500,000 has gone into a plant that Brompton has started in Sheffield, in a venture with Yorkshire metals manufacturer CW Fletcher, to make a new range of titanium frames to cut the weight of some of the company's high-end models.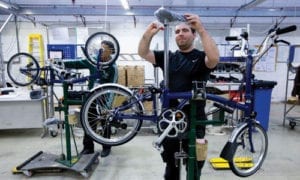 Butler-Adams is among a strong cadre of manufacturers who see opportunities on the horizon and are investing strongly as a result.
But Jon Sleeman of the big property company JLL – which has many industrial clients, in both manufacturing and distribution – provides a somewhat more nuanced view of likely capital spending in 2019 and in the years ahead.
 Sleeman sees "patchy" patterns of expenditure in industry, with companies more exposed to domestic markets more likely to be thinking expanding output, while exporters, especially to the rest of the EU, are generally less enthusiastic. On the investment front, the next 12 months are likely to prove rocky.
NEWS IN BRIEF: FACTORY INVESTMENTS DURING 2018
JANUARY
Arla Foods 
Arla Foods announced a plan to invest £72 million in new, expanded and improved production capacity at 10 of its 12 sites across the UK. The "carbon net zero" Aylesbury site's £33.6 million will make it the UK production centre for lactose-free dairy products.
FEBRUARY
Toyota 
Toyota Motor Europe (TME) announced that the third generation Toyota Auris will be built at Toyota Manufacturing UK's (TMUK) car plant in Burnaston, Derbyshire. The Deeside plant will supply engines.
Autodesk 
Autodesk's new Advanced Design & Manufacturing Facility in Birmingham, its in Europe and one of six technology centres around the world, has been equipped with robots from ABB and KUKA Robotics, and machines from DMG Mori, Hermle, Steifelmeyer and Hamuel.
MARCH
Siemens
Siemens signed a long-term lease for land in Goole, East Yorkshire, for a new train manufacturing factory. Around 1700 indirect jobs are expected to be created. A £27m investment in a new 3D printing facility for its Material Solutions Ltd, Worcester, plant will enable it to increase its fleet of 3D printing machines from 15 to 50 over five years.
Valero £127m investment
A £127 million project to create a 45MW Combined Heat and Power (CHP) Cogeneration Unit at Valero's Pembroke Refinery was given the go-ahead, following support from the Welsh Government.
APRIL
Vauxhall
PSA Group, Vauxhall's parent company, has confirmed an investment to increase manufacturing capacity at its Luton plant, which is scheduled to produce a new Opel/ Vauxhall Vivaro van. The investment will increase capacity to 100,000 vehicles per year.
MAY
BAE Systems
The upgraded Central Yard at BAE Systems' Barrow site, which includes production, workshop and offices, will undertake certain phases of construction for the new Dreadnought Class submarines.
Dairy Crest
Dairy Crest's £75 million investment at its Davidstow creamery will enable an additional 200 million litres of milk a year to be processed and increase annual cheese capacity from 54,000 to 77,000 tonnes.
Fuchs Lubricants
Fuchs Lubricants UK's Stoke-on-Trent HQ is to get a new raw materials warehouse and a range of manufacturing machinery as part of a cash injection of more than £10 million.
JUNE
Baker Hughes GE
Baker Hughes, a GE company, is investing £31 million, including £4.9 million Scottish Government funding, in its NE Scotland subsea equipment manufacturing facilities.
ABP Foods
ABP Food Group announced a £17 million investment in the extension and upgrade of its processing plant in Perth, Scotland. The project includes a chilled storage area, dry goods storage, maturation and meat production facilities, and staff amenities.
Tiger Trailers
Tiger Trailers announced a £22m programme to build the UK's most advanced trailer and commercial vehicle body manufacturing facility in Winsford, Cheshire.
JCB
JCB Cab Systems is building a new £50 million, 350,000 sq ft facility in Uttoxeter, Staffordshire. It will have the capacity to produce around 100,000 cabs a year.
JULY
Johnson Matthey
Johnson Matthey has announced a demonstration-scale plant in Clitheroe, Lancashire to manufacture up to 1000 tonnes per annum of next-generation eLNOTM battery materials for electric vehicles.
Meggitt
International aerospace, defence and energy engineering group, Meggitt Plc, has commenced work on the construction of a new manufacturing, office and international headquarters facility at Ansty Park, Coventry.
British Steel
British Steel has announced a £50 million scheme to improve the quality and range of wire rod produced at the company's headquarters in Scunthorpe, England.
Mallaghan
Mallaghan Engineering is embarking on a multi-million-pound investment at its Northern Ireland facility. The plans include significant new product development, staff recruitment and an extensive training programme.
AUGUST
Catapult centres
Chancellor Philip Hammond announced an additional £780 million to expand the UK's network of Catapult centres, as part of the Industrial Strategy.
STC Trailers: 50 jobs
SDC Trailers has completed a £7m expansion to its manufacturing headquarters in Toomebridge, N Ireland, creating 50 new skilled jobs and improving production capability and output.
Liberty Steel 
Liberty Steel Newport has begun a planned £15m investment in new and upgraded equipment. The 180-worker South Wales plant, re-opened in 2015, is targeting further growth in 2019.
SEPTEMBER
Britvic
Soft drinks manufacturer Britvic is investing more than £100milllion redeveloping its Rugby facility, as part of a broader £240m three-year investment programme in GB manufacturing capability. It has installed three new PET bottling lines, a new on-site warehouse and an aseptic line to manufacture preservative-free drinks.
Williams/Unipart
Hyperbat Limited, a new joint venture launched by Williams Advanced Engineering and Unipart Manufacturing Group, announced a new, multimillion Pound, high-tech facility that will produce batteries for future hybrid and electric vehicles.
Ineos Grangemouth
INEOS has announced plans to invest £60million to expand its Grangemouth site. It has awarded a contract to build its 10th furnace on its KG ethylene plant to Selas-Linde GmbH, Germany, to improve efficiency at the plant and increase production capacity.
OCTOBER
Camlin
Northern Ireland engineering business Camlin is investing £28 million expanding its Lisburn headquarters. Camlin develops and supplies engineering solutions, primarily for the electricity and rail industries.
Uniti at Silverstone
Uniti Sweden has announced plans to establish an electric vehicle "pilot production plant" at Silverstone Park, the home of the British Grand Prix. The facility will be used to produce the Uniti One electric car and serve as a blueprint for "digital assembly plants" throughout the world.
Cranswick Foods
Cranswick has started the construction of its new c.£60m class-leading primary poultry facility in Eye, Suffolk. The company says it will be the most efficient poultry processing facilities in the UK and Europe.
NOVEMBER
Talgo
Passenger train manufacturer Talgo has selected the former Longannet power station site in Fife, Scotland, as the location for its new £40m factory, which will produce high-speed trains capable of up to 235mph.