ON A STEEP GROWTH TRAJECTORY
Bromford Group have been celebrating their organic growth in 2018 and are gearing up to build on their success in 2019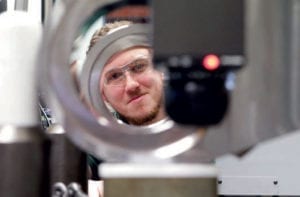 Established in 2009, Bromford manufactures a broad range of components and assemblies for aero and marine gas turbines, aircraft landing gear, static gas generators, and nuclear and specialist engineering applications.
Bromford has experienced significant growth during the last year. This organic growth has been based on the acquisition of new businesses, investment in the latest manufacturing technology and winning multi-year strategic rings supply contract with a major aircraft engine manufacturer.
With headquarters based in Birmingham (UK), Bromford became a global company in 2018. This was due to an acquisition, made by Bromford's owners – Liberty Hall Capital Partners, of another component manufacturer – AeroCision, based in Connecticut (USA). AeroCision is now integrated into Bromford and already has strengthened the company's customer and stakeholder relationships in the United States. With similar product portfolio, specialising in aero engine rings, AeroCision compliments Bromford's existing precision capabilities and established expertise in the aerospace industry. AeroCision also has an AS9100C certified Indo-American joint venture factory in Bangalore (India), where Quality, Delivery & Costs are consistent with the company's overall performance.


In order to be cost competitive and to provide customers with on time delivery and exceptional quality, Bromford has been heavily investing in technology. Embracing the 4th Industrial Revolution, the company has invested in 9 5-axis "state-of-the-art" Okuma CNC machining centres, which are connected via machine monitoring software, in order to provide real-time data and form a SMART Factory cell for the production of rings for the fastest growing commercial aero engine platform. Moreover, innovative technology is in the heart of all Bromford's operations. Evidence of this can be further observed at Bromford Technologies, based in Alcester (UK), where Bromford has already incorporated several on-trend manufacturing innovations, including robotics for welding & inspection and 3D printing for fixtures, tooling and prototyping.
Now, Bromford is ready for building on the success from 2018, already having presence on 3 constinents. The Group will keep on growing organically and investing in its people and technology.