Above: Dick Turpin, Chairman of ITP Group, poses with the latest 3D modelling machine, the Studio Style 180.
ITP GROUP CELEBRATES 40TH ANNIVERSARY AND GEARS UP FOR NEW ERA OF MEASURING AND STYLING
SINCE 1979, RUGBY-BASED ITP GROUP HAS BEEN AT THE FOREFRONT OF AUTOMOTIVE STYLING. FROM BENTLEY TO MCLAREN, JAGUAR LAND ROVER TO ASTON MARTIN, ITP'S CLIENT LIST REFLECTS HOW CLOSELY THE COMPANY'S STORY IS LINKED WITH THE HISTORY OF AUTOMOTIVE INNOVATION.
B
e it Formula One racing cars or Chinese satellites, ITP's measuring, styling and special purpose inspection machinery has helped shape and style vehicles to precise specifications. 2019 will see the manufacturer celebrate its 40th anniversary and as the business unveils its latest machine, everyone on the team is busy working on the next stage of growth.
ITP Group started out providing measurement and styling solutions for the automotive and aerospace sectors. By supplying quality bespoke machinery, the specialist manufacturer has evolved its offer in line with the changing needs of its customers. As a result, clients from across the world see ITP as a one-stop-shop for design, assembly, installation, software and maintenance. Since 1979, the manufacturer has supplied over 3,000 machines in 30 countries.
Despite its success, ITP Group has never rested on its laurels and continues to break new ground. Earlier this year, the company unveiled its latest horizontal arm 3D modelling machine. The Studio Style 180 is a game-changer for ITP and doesn't require any traditional rotating bearings. The machine incorporates a high-precision recirculating crossed roller design and the very latest design locks and fine drive technology. It is more user-friendly, requires less frequent servicing and is extremely light and rigid in its operation.
Alongside the new machine, ITP has launched Studio Mill and Studio Tools, software which includes a variety of new features not available on standard software interfaces.
Like all ITP machines, Studio Style 180 was designed and manufactured entirely in-house to ensure optimum control and quality standards. It has been developed to operate in the harsh environments of clay studios and meet the requirements of automotive customers around the world. The machine has already generated more than £1 million-worth of orders and is testament to ITP's ability to respond innovatively to changing industry demand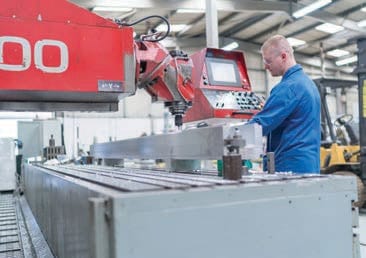 That adaptability will be crucial in the years ahead. Manufacturers are having to be far more agile to keep pace with an ever changing economic, commercial and political climate. From the challenges of operating in post-Brexit Britain, to responding to global market pressures, manufacturers need to be fleet of foot. ITP has proven it has the track record and expertise to respond quickly and effectively to the challenges ahead.
2019 will be a year of celebration for ITP and a chance to reflect on its achievements, yet the priority will be to continue innovating and investing to cement its place as a market leader for decades to come. These may be challenging times but there are also real opportunities for growth. Be it embracing Industry 4.0, or designing tomorrow's electric vehicles, ITP machines will play a key role in the development of future technology.
ITP Group Chairman Dick Turpin has been there since the start of the journey and continues to help drive the business forward. Over the years he has built up an impressive leadership team which has gained considerable experience and expertise through a robust succession plan. In the coming 12 months they will invest and evolve to help secure the long-term future of Best of British engineering.