East Anglia has a diverse manufacturing base, with no one sector dominating. This gives plenty of opportunity for entrepreneurial businesses to try out new ideas in an innovation-friendly environment.
BY HUW SAYER
According to the Make UK/BDO Regional Manufacturing Outlook report (2019), the East of England (including Suffolk and Norfolk) is the UK's fourth largest manufacturing region, accounting for 8.2% of national production and worth around £17.8bn. This is almost 12% of the region's total output; well above the 9.7% UK average. Goods exports in 2018 were worth £7.3bn, around 8.3% of the UK's total, with some 60% going to European markets.
Manufacturers in the region employed around 244,000 people (7.5% of the workforce) in 2018, up 4,000 on 2017 – and manufacturing reportedly accounts for a higher proportion of jobs in Suffolk and Norfolk than the UK average. There is no single dominant industry although food and drink, as for the UK as a whole, is the largest at around 15% of manufacturing output. There are also numerous specialist sub-sectors, such as automotive, clean-tech, renewable energy, and industrial automation.
Electric vehicles driving innovation
The region's big manufacturing story in 2019 was the unveiling of the new Lotus Evija. This made headlines around the world, with the automotive and business press as well as the fashion media. Built at the company's Hethel HQ in Norfolk, the 2000hp two-seater captures the Lotus sports car spirit in every exquisite precision- engineered detail – but what really sets it apart is that it is the first fully electric, zero emission, British hyper-car.
From its ultra-light-weight carbon fibre monocoque to the dramatic Venturi tunnels through each rear quarter that give the Evija its breathtaking appearance, this really is a car for the drivers. Yet, when thinking about the incredible technology, it is easy to overlook the supreme artisanship that goes into finishing – and in many cases personalising – each vehicle. The interiors are hand-clad in hand-stitched materials and customers can specify not only fabrics but also precise colour schemes.
Technicians spray-paint each car on site, too, and paint all the panels of one car at the same time to ensure a homogenous finish across the whole body. The paint process is unusual and definitely groundbreaking. Carbon fibre and composites cannot be baked at the same high temperature (400⁰C) as normal metal panels so Lotus worked with its paint supplier to develop a new, low-temperature (70-80⁰C) curing process that delivers a finish that is as good as on metal. The paint supplier is now offering the same process to the refinishing industry – a good example of how innovation in one area can flow through the industry supply chain.
The Evija helped Lotus win the title 'Luxury Brand of the Year – 2019' at the prestigious Luxury Briefing awards. Retailing from £1.7m and with a limited production run of just 130, the Evija is not your everyday run-around. However, as with many other technologies developed for premium vehicles, it is almost certain that much of the learning that's gone into developing this all-electric marvel will filter down to more affordable vehicles in time.
Building the future of public transport
Something that might seem mundane by comparison with a hyper-car but could be just as important is an electric bus, designed and developed by Equipmake, which started life at the Hethel Engineering Centre, next door to Lotus. It recently moved to a new, larger, purpose built manufacturing facility just by the famous Snetterton racetrack.
The government's industrial strategy, launched in 2018, identified four Grand Challenges and set a big mission for each challenge. One Grand Challenge, 'The future of mobility', represents the UK's mission to be at the forefront of zero-emission vehicle design and manufacturing by 2040.
To achieve that goal, the UK will need more than high-tech hyper-cars. It will need to produce mass market EVs at scale. Equipmake is developing just such a solution: the EBus advanced electric drive train. This platform uses two of Equipmake's classleading APM200 spoke motors; the latest-generation lithium-ion battery pack; and an advanced power control system.

Equipmake's MD, Ian Foley, is a highly experienced engineer with a background in global motorsport, including F1. His passion for precision engineering and efficiency led him to create an affordable, zero-emissions vehicle suitable for public transport. His team has the capability to design, test and manufacture everything from electric motors to entire electric automotive platforms.
The EBus platform can fit a range of vehicle sizes and configurations, which allows any bus maker to go electric. Its ultra-compact, lightweight spoke motor is highly efficient and, combined with clever management of energy use, makes the EBus cheaper to run over 10 years than a diesel bus. The company's first client is South American commercial vehicle maker Agrale, which is scheduled to start running the buses in Buenos Aires in 2020.
The EBus project has received £7.5m in funding from the UK's Advanced Propulsion Centre. Equipmake expects to build 700 EBus drive trains for Agrale in the first year of production but is already receiving enquiries from other companies.
"The global market for clean, affordable electric buses is around 300,000 vehicles a year," says Ian Foley, "and that is only growing."
Accelerating environmentally friendly manufacturing
Advanced robotics, digital imaging systems and high-speed motors are driving efficiency across a range of industries. Some call this Industry 4.0 but for PCE Automation (part of the PCE Group) in Suffolk, it's business as usual.
PCE makes a wide variety of automated product handling, assembly and testing systems. It has the skills to design, manufacture, program, and install innovative production equipment that blends complementary technologies, such as high-speed robotics and vision inspection cameras. These enable precision handling of even delicate and intricate objects at speed, from plastic packaging and glassware to contact lenses and pharmaceuticals.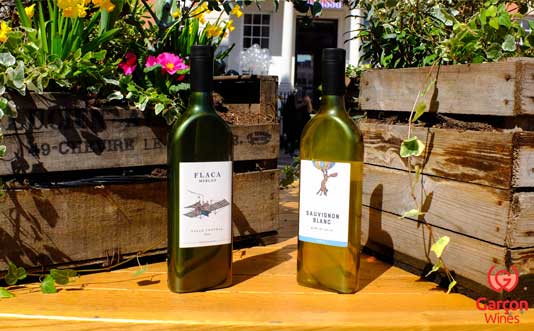 One of PCE's long-term clients is another Suffolk firm, Berry M&H, based in Beccles. It produces plastic packaging from recycled materials for sectors as diverse as pet care, personal care, health and beauty, food and drink, DIY and industrial chemicals. It has a reputation for helping clients create innovative, bespoke products.
This approach attracted Santiago Navarro, CEO & co-founder of award winning Garçon Wines. He is on a mission to advance and rethink the bottled drinks market – starting with wine bottles that are flat enough to post through a letterbox yet still hold a standard 75cl. "I wanted a supplier who could overcome the technical challenges of creating an aesthetically pleasing bottle that was light, strong and fully recyclable – and didn't fall over."
He drew on the design and injection stretch blow moulding expertise of Berry M&H to create a wine bottle that is 87% lighter and 40% spatially smaller than a traditional glass bottle. By using 100% post-consumer recycled food-safe PET for the bottle and compatible plastic for the cap and label, they have developed a product that is fully and widely recyclable. "This is not just a sustainable product, it is sustainable at scale across the supply chain and product lifecycle," Santiago Navarro says.
MANUFACTURING NEWS IN BRIEF FROM SUFFOLK AND NORFOLK 2019
May 2019
Unilever confirmed a 10-year supply agreement and capital investment programme with Condimentum Ltd, a consortium of the region's mint and mustard growers. The partnership is supporting the construction of a state-of-the-art milling and processing factory on Norfolk's new Food Enterprise Park. This will supply milled mustard flour and blended mint to Colman's, so maintaining the area's 200-year link with the iconic British brand.
June 2019
Teknomek Ltd, based in Norwich, announced it had supplied the new Fast & Furious film (Hobbs & Shaw) with a wide selection of stainless steel products, including chairs, tables and other production accessories. The firm is the UK's leading manufacturer of hygienic stainless steel equipment and furniture. Its customers include food manufacturers, pharmaceutical companies, medical centres and scientific research institutes. (See main image)
August 2019
Mirus Aircraft Seating Ltd announced the first shipment of its Linefit Shipset seats, designed for the Airbus A321neo aircraft, to its client AirAsia. The high-performance, lightweight seats, made from carbon fibre and forged aluminium at the firm's factory in Norfolk, were inspired by the design team's engineering experience working on F1 racing cars. "This marks the culmination of an eight-year mission to deliver an economy seat to the Airbus Final Assembly Line as an approved Airbus supplier," says CEO Phil Hall, "but we see this as just the start of our innovation journey as we continue to set new challenges for Mirus."
Entrepreneurs wishing to set up manufacturing business in Suffolk and Norfolk are invited to contact please contact the New Anglia LEP (https://newanglia.co.uk/our-team/)
EAST ANGLIA MANUFACTURING DATA
TOTAL MANUFACTURING OUTPUT
MANUFACTURING OUTPUT AS % AGE OF REGIONAL OUTPUT
MANUFACTURING AS % OF REGIONAL EMPLOYMENT
TOTAL EMPLOYED IN MANUFACTURING
AVERAGE MANUFACTURING SALARY AS % OF REGIONAL AVERAGE