Above: Swift technicians prepare to create new moulds for wing spars by laminating dry carbon fibre cloth onto the plug, ready for resin infusion.
Innovation and investment have been driving growth in Suffolk and Norfolk, business writer Huw Sayer finds.
The East of England's economy made a strong start to 2018, according to the latest UK Powerhouse Report from Irwin Mitchell and the Centre for Economics and Business Research. This helped Ipswich and Norwich, along with Cambridge, remain among the UK's 10 fastest growing urban centres. A trend that looks set to continue.
The latest EEF/BDO Regional Outlook 2018 report on manufacturing trends in the East of England echoes this optimism. There are now around 243,000 people (7.7% of the region's workforce) working in manufacturing, up 4.3% since March 2010. The 14,000 firms that employ them produce 8.3% of the UK's total output and account for 9.3% of its manufacturing exports.
This positive environment has been good for manufacturing sectors across Suffolk and Norfolk. Food, energy, automotive, medical and aeronautics companies in the region have continued to invest in equipment, employees and facilities. Research by Grant Thornton, looking at the 100 largest independently owned and managed companies in each county, found that turnover at manufacturing companies had increased by 7.2% in Suffolk and 7.9% in Norfolk.
Business takes-off at former RAF Coltishall
Visitors to the 1919 Paris Air Show were amazed to see the world's first steelframed aircraft with load-bearing plastic skin. The firm behind this marvel of modern engineering was a manufacturing powerhouse from Norwich called Boulton & Paul, which also built a third of the Sopwith Camels flown in World War 1. The firm has faded from history – but, 100 years on, aircraft manufacturing has returned to Norfolk.
Fittingly, this renaissance is on 600-acres of former RAF Coltishall, now called the Scottow Enterprise Park. Here a growing community of around 130 companies and 500 professionals are working on everything from agri-tech and construction to underwater surveying. One recent arrival is Swift Aircraft, part of Swift Technology Group, which is developing a new generation of aerobatic trainers.
Swift moved its HQ to Scottow at the end of 2017 and opened its manufacturing facility in early 2018 – making it the first new aircraft builder in the UK for 25 years. It is currently developing an all-composite, lightweight, two-seater, high performance aircraft. By using glass fibre in the construction and carbon fibre for the wings, the company is able to create curves that are both aerodynamic and aesthetically pleasing. Swift Technology Group, which also makes wind turbines, is reportedly looking at moving more of its business to Scottow.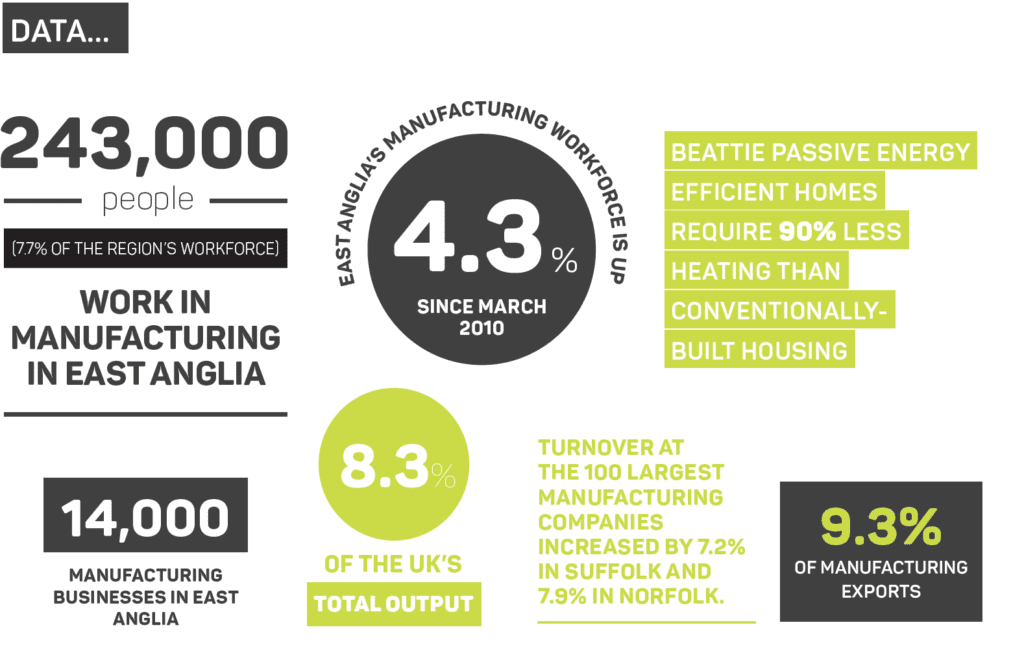 Building the future of construction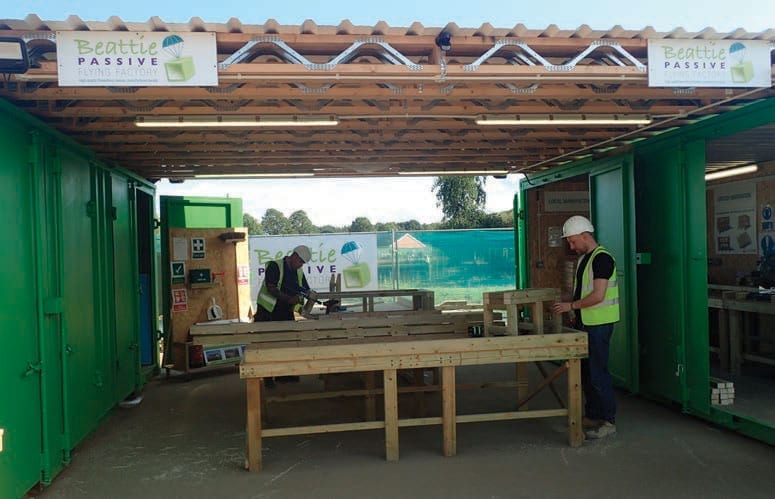 Another business taking off from Scottow is Beattie Passive, which builds energy efficient 'volumetric modular homes'. These require 90% less heating than ones built using standard techniques and exceed current Passivhaus standards. Their patented construction method uses traditional and readily available materials, making them affordable as well as quick to build and install. Once the modules (which fit on standard transporters, so don't require a large-load escort) reach the build site, builders can erect the shell of the house in just two days.
In July 2018, Beattie launched its 'Flying Factories' for councils, housing associations, social enterprises and direct labour organisations. These pop-up facilities, which made the Product Innovation award shortlist in the Structural Timber Awards 2018, enable builders to construct the modules on the development site and so create local employment. The factories are easy to put up, and just as easy to take down and move to a new site as needed. Beattie trains each team to use its construction methods and visits them regularly to ensure the build quality.
Bright sparks driving a revolution in Suffolk
Another airfield in the region that's become a hub of enterprise and innovation is part of former RAF Martlesham, near Ipswich. Now called Ad Astral Park, this 100-acre campus is home to BT's global R&D headquarters and a growing cluster of 100 advanced ICT companies, including Cisco, Huawei, Intel, Nokia, and Tech Mahindra. With around 4,000 scientists and engineers working on everything from communications and sensors to Industry 4.0 applications and robotics, it really is at the heart of the UK's thriving digital ecosystem.
Prosynth production chemist isolating advanced intermediate using 20L rotary evaporator
EO Genius – smart EV charger for domestic and commercial vehicles
In nearby Sudbury, specialist chemical manufacturer Prosyth Ltd provides an interesting example of the potential for crossover between the worlds of organic chemistry and technology. The firm develops high quality organic ingredients for the pharmaceutical industry. However, it also produces high purity intermediates for applications in advanced display technologies, such as OLED and AMOLED screens used in smart watches and mobile devices.
Just half an hour away, in Stowmarket, another tech company is looking to revolutionise the way people use and store energy. EO Charging, founded 2015, is currently making a range of OLEV accredited charging points for electric vehicles, including the smallest and fastest charger on the market. It is designing and manufacturing these in Suffolk and sourcing a majority of the components, including PCBs, from local manufacturers.
The firm has already made 5,000 chargers and is selling them in 25 countries; however, this is just the start. The firm is on a mission to develop smart energy technology that helps people become energy independent. It is developing solar and battery storage technology, as well as smart grid and smart home software – called eoHub – to help people manage their energy needs.
Other companies in the area taking advantage of the growing popularity of EVs include Spark EV Technology in Newmarket, which has developed proprietary range-management software. It uses a combination of sensors and machine learning, along with a mobile app, to provide accurate range predictions for EVs based on live data. The firm reportedly secured a £50,000 investment in February 2018 from New Anglia Capital to develop its business, including sales to Scandinavia.
Back in Norfolk, there are around 70 advanced engineering and manufacturing companies at the Hethel Engineering Centre, including a number in the automotive sector. One of these, Equipmake, specialises in designing and integrating ultra-high performance electric motors, complete EV drivetrains, and ultra-fast power electronic systems. It recently received support from Innovate UK for a £2.5m project to develop low-cost drivetrains for electric buses, with a first prototype due in 2019.
In Norwich, just a mile from where Boulton & Paul had its aircraft factory, a new company is making a name for itself in the aerospace, defence and marine sectors. Pathfindr Asset Intelligence designs and develops low-powered, low-cost, Bluetooth/GPS tracking systems to help companies monitor their physical company assets. As well as providing location and environmental data, these IoT sensors can give customers real time operational data. Its clients include Rolls Royce, GKN, and MTU, the world leader in industrial diesel engines.
Support from Academia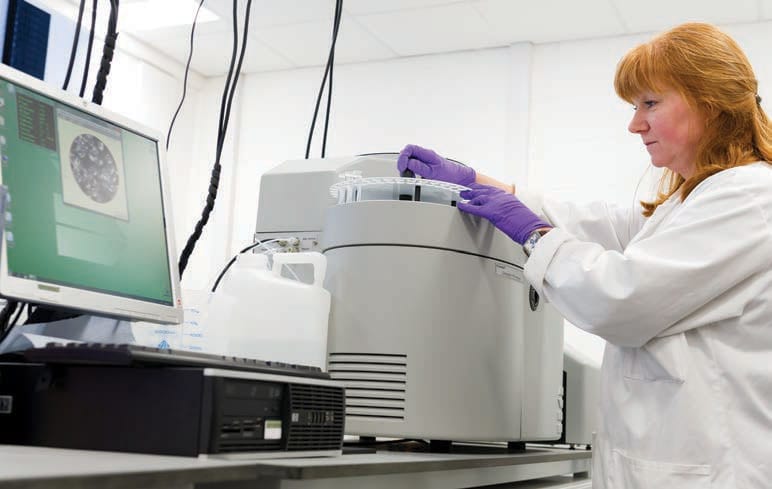 There is a growing link between academia and local manufacturing companies in Suffolk and Norfolk. The New Anglia LEP's Skills Manifesto seeks to ensure the region's schools, colleges and universities give young people the skills they need to compete in the modern economy. Those institutions are also working to help companies improve productivity and drive innovation.
For instance, the Science Analytical Facility at the University of East Anglia conducts environmental, food, pharmaceutical and forensic analysis for companies. The facility has achieved ISO9001:2015 certification for its range of professional services, which are not available elsewhere in the region. The team, led by Liz Rix, worked with at least 15 companies in the last 12 months, including manufacturers such as API Tech, British Sugar, Treatt PLC, and Harvey Water Softeners.
Contact Julian Munson, head of Enterprise Zones and Innovation at New Anglia LEP, for more information about manufacturing opportunities in the East.
NEWS FROM SUFFOLK AND NORFOLK
JANUARY 2018
Lotus Cars, owned by Chinese automotive group Geely Holding, set out a 10-year vision that includes increasing production from around 1,600 cars to 2000 by 2021, and designing a new four-door SUV.
JUNE 2018
Pet food manufacturer Natures Menu, based at Snetterton in Norfolk, featured in the Sunday Times / HSBC International Track 200 list of UK companies with the fastest growing international sales.
Kettle Foods, which makes the UK's leading brand of hand-cooked crisps, announced a £3m investment to upgrade the entire potato processing operation at its Norwich HQ. The company uses around 55,000 tonnes of locally grown potatoes each year and this investment will increase its intake capacity by a third.
Crisp Malting Group unveiled a £6.7m investment in new production equipment at its Norfolk HQ, to meet growing demand from craft brewers. This included a £3.5m automated milling, cleaning and packing line, and a £3.2m speciality roaster to produce 'higher colour' malts that brewers use to create different styles of beer.
Consort Medical plc opened a state-of-the-art Injection Moulding Academy at its Bespak site in King's Lynn, where it develops and manufactures complex pharmaceutical delivery devices. It can now offer its apprentices, technicians, operators and engineers onsite courses covering validation, statistics, Moldflow, and polymer science, up to RJG master moulder certification.

New Injection Moulding Academy at Bespak. Consort Medical plc's injection moulding academy at its Bespak site in King's Lynn, Norfolk, is equipped with latest generation electric injection moulding machines, auxiliary, ancillary, inspection and testing equipment
AUGUST 2018
Bernard Matthews Food announced plans to recruit 400 new employees and invest further in its Suffolk and Norfolk facilities, after it secured a large contract with a leading supermarket chain. It has sales of £200m and employs around 1,500 people in the region.
SUMMER 2018
Energy and engineering companies (including Vattenfall, Seajacks, and UK Power Networks) provided 33 students from Suffolk and Norfolk with 20-day paid internships, funded by The Ogden Trust. "We hope to place 50 interns in 2019," said programme manager John Best.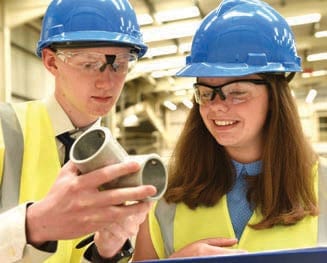 NOVEMBER 2018
In a statement to Just Food magazine, Unilever confirmed it was looking to "protect the historic link between Colman's and Norwich" by investing in a new "state of the art" processing facility in Norfolk.
EDF Energy launched stage three of its public consultation into Sizewell C, a new nuclear power station on Suffolk's coast. It intends to submit a planning application in 2020 and start construction in 2021.
DECEMBER 2018
A consortium of 10 food and drink producers from Suffolk and Norfolk announced plans to exhibit at Horecava, the Netherlands' largest hospitality trade show, in January 2019.