According to Make UK's annual survey, the powerhouse of the East Midlands is the most improved region in the UK over the last twelve months in terms of increased output, now worth £17.2 billion in total. Mark Venables
M
anufacturing is vital to the region's overall economy, contributing nearly 17% of its total output, well above the UK national average of 10%.
Its recent growth is reflected in the employment figures, with 8000 new jobs created in 2019, lifting manufacturing employment to its highest figure for 15 years. The area has a rich heritage in aerospace and automotive, with global brands of Toyota, Bombardier Transportation, Caterpillar and Rolls Royce having a large presence in the area but it is food and drink that remains the dominant sector.
Refreshments are served
The food and drink sector made up just over a fifth of the region's output, with rubber and plastics in second place. The region hosts several household names, such as Belvoir Fruit Farms in Bottlesford, Leicestershire, who produce the Belvoir range of cordials and presses; Samworth Brothers, in Leicester, which makes a range of pasties and pies including Ginsters Cornish Pasty; and in Melton Mowbray, Long Clawson Dairy, a traditional English cheesemaker.

"I think the East Midlands is really underrepresented and under championed," Charlotte Horobin, membership director – Midlands & East of England, Make UK says. "It has the largest proportion of people working in the UK manufacturing sector. Along with very credible global players there is a fantastic, diverse supply chain."
Mark Carney, governor of the Bank of England, once referred to the East Midlands as a bellwether of economy. "We see that in the results of our annual surveys," Horobin adds. "In more volatile times the region weathers it well because it has that diversity with food and drink, rail, aerospace, automotive, aggrotech and the motorsport industry."
Challenges for export
The East Midlands remains a strong exporter, accounting for 6.5 per cent of the nation's manufacturing exports, more than half of which goes to the EU, therein lies its greatest challenge according to Jon Gilpin, head of manufacturing at BDO in the Midlands.
"East Midlands manufacturing is in a challenging place now with three things impacting the region," he said. "The leading challenge is obviously Brexit and that has been hanging over the area since the referendum three years ago now. Number two is the ongoing trade wars between the US and China. That creates another layer or level of uncertainty which businesses do not like. Even if your business is not directly exposed to the US or China, somebody somewhere in your supply chain or your customers will be. And then the final aspect is that a lot of the major economies have started showing increasing signs of moving towards a downturn or recession."
Toyota landmark
Transport equipment fell behind the two leaders into third place, reflection on the turbulent trading scenario globally, but automotive manufacturing remains very important to the region.
Despite it being a difficult year the Toyota Manufacturing UK (TMUK) vehicle assembly plant at Burnaston, Derby celebrated the start of production of the all-new Toyota Corolla Hatchback and Touring Sports wagon early in 2019. At the official ceremony in January Dr Johan van Zyl, president and CEO of Toyota Motor Europe, explained that Toyota had invested more than £2.75 billion in the UK since the start of production in 1992.
"As part of our strategy to secure the competitiveness of our UK operations, we took the decision in 2017 to upgrade our Burnaston plant to manufacture cars based on the new TNGA platform," he said. "Our continued investments, combined with the dedication of our members, will ensure that we can deliver ever better cars to our customers.

"The new Corolla will play a critical role in our market ambitions in Europe. It delivers the benefits of the new TNGA platform and increases the appeal of our industry leading, self-charging hybrid electric technology."
Fast and furious
The region is well represented in motorsport generally and Formula One especially, with Racing Point F1 at Silverstone, Aston Martin Red Bull Racing at Milton Keynes and AMG Mercedes at Brixworth. The 2019 campaign was successful for Red Bull, with lead driver Max Verstappen finishing in third place in the driver's championship behind the two Mercedes cars of Lewis Hamilton and Valtteri Bottas, and the team finishing third in the Constructor's championship, behind Ferrari. Producing the two cars that take to the circuit 21 times a year is a massive engineering undertaking, supported by over 900 staff members.
"The components we will design in a year will produce about 100,000 drawing releases," Christian Horner, team principal at Red Bull Racing says. "There are about seven and a half thousand parts to each Grand Prix car, each of which will probably be revisited three to four times during the year and updated and superseded. There are about 1000 designs a week released from the drawing office and we make about a million parts per year to produce these two Grand Prix cars.
"It is all in small production runs. We only make five cars for the whole year, so it is ones and twos, threes, and fours of these all of these different components. It is this relentless quest for performance that we keep revisiting. For example, the front wing that has the most attention during the year because that dictates the most performance over the car. We can have 18 variants of that across the 21 races, and the car is never in the same specification twice during the season."
MONORAIL TO CAIRO
In the rail sector, Bombardier Transportation, headquartered at the iconic Litchurch Lane facility in Derby, is at the heart of the largest cluster of rail-connected businesses anywhere in the world. A global leader in the industry, the company offers a comprehensive product portfolio spanning the full spectrum of rail solutions. The Bombardier site at Derby alone employs over 2000 people including over 400 specialised engineers.
In a landmark deal this summer a Bombardier-led consortium signed a major new order to build and supply the new Cairo Monorail system in Egypt. Bombardier will design, supply and install the electrical and mechanical equipment for the two lines including 70 four-car Bombardier Innovia Monorail 300 trains (280 cars).

Bombardier Rail's facility in Derby is at the heart of the world's largest cluster of rail-connected businesses.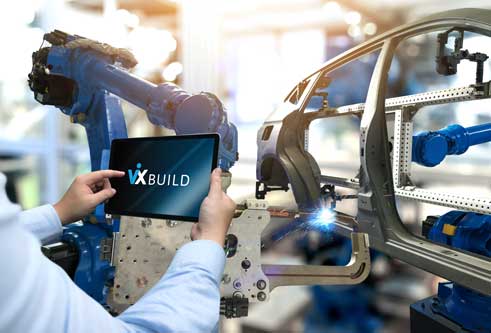 A VIRTUAL RIDE
The region is not just about traditional skills; there are plenty of examples of digital technologies. Holovis, a digital disruptor and innovator of next-generation solutions featuring immersive, emerging, and interactive technologies, has a unique cross-sector client base. It is shaping the Industry 4.0 revolution with AI-driven virtual manufacturing innovations on the one hand and developing next-generation entertainment solutions using AI and Machine Learning algorithms on the other.
In 2019 the company launched its ViX Suite of solutions for virtual manufacturing and advanced engineering; a collection of software packages that span across the manufacturing cycle from design and visualisation through to applications for build and retail. All solutions work from the same CAD throughout, to streamline the process.
The ViX Build module has been implemented on automotive manufacturing lines to check the quality, consistency, and accuracy of parts coming off the line. It uses an innovative application of automated Augmented Reality combined with native CAD to verify that real-world applications of sealant, anti-flutter and rivets are in the correct place. This results in an increased right-firsttime ratio, reducing rework costs, and creates a digital data trail.
Holovis' new Flying Theatre attraction for theme parks reverses the traditional guest experience by putting them in the prone position and having them soar over immersive content as if genuinely flying. This patented innovation is a complete multisensory experience combining visuals, audio, perfectly synched motion, SFX, and real-time media, connected to innovative data capture mechanics, which measure guest reactions and take them on a personalised journey.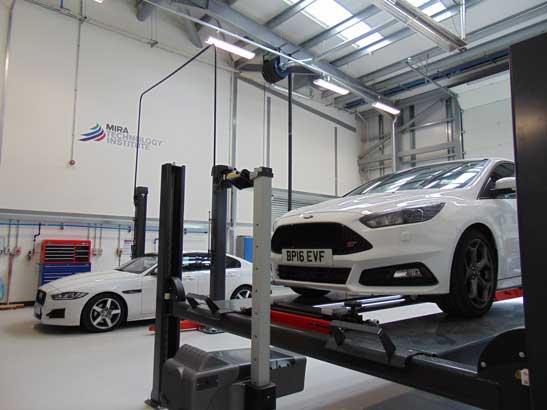 DEVELOPING NEXT GENERATION AUTOMOTIVE SKILLS
MIRA Technology Institute (MTI) was built in Nuneaton in 2018 with £9.5m investment from the Government's Local Growth Fund. It provides students with a bespoke curriculum aimed at satisfying an ever-increasing need for specialist skills in the UK automotive sector with a focus on disruptive technologies, such as electrification and driverless cars, cultivating the skills necessary to operate at the cutting edge of automotive technology.
The 24,500 square ft facility celebrated its anniversary in November. In its first year of operation over 5500 students and delegates have used the facility including over 360 studying for accredited qualifications from a Level 1 Institute of the Motor Industry certificate up to Masters' degrees, and nearly 200 following apprenticeships at all levels.
"We're delighted to mark such a successful first year for the MTI and pleased that we are already delivering a sustainable supply of future specialist technicians and engineers," Marion Plant, OBE FCGI, chair of the MTI operations board, and principal and chief executive North Warwickshire and South Leicestershire College said. "Our ambition is to be a global centre of excellence and we made some progress towards achieving that when, in June this year, we welcomed the chairman and group CEO of the HORIBA Group, Atsushi Horiba, to the MTI for HORIBA's global strategy meeting."
Over 5500 students and delegates have used MIT since it was opened in November 2018:


EAST MIDLANDS MANUFACTURING DATA
TOTAL MANUFACTURING OUTPUT
MANUFACTURING OUTPUT AS % AGE OF REGIONAL OUTPUT
MANUFACTURING AS % OF REGIONAL EMPLOYMENT
TOTAL EMPLOYED IN MANUFACTURING
AVERAGE MANUFACTURING SALARY AS % OF REGIONAL AVERAGE