Brexit stalked the West Midlands' manufacturing industry throughout 2019, generating an unwanted climate of uncertainty.
BY DUNCAN TIFT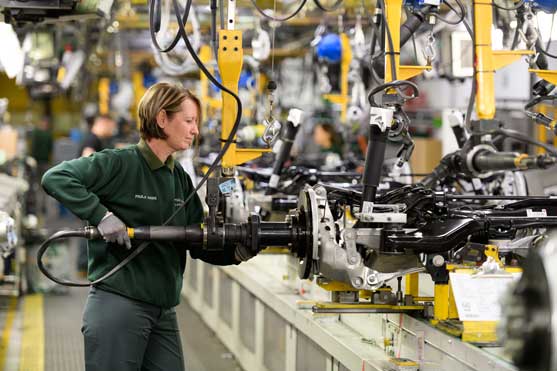 Predictions are for a tough 2020, with growth rates being revised down and optimism a commodity in increasingly short supply.
The region's traditional manufacturing bastion, the car industry, has had a dreadful year and has coloured much of the West Midlands' economic activity. However, anyone thinking the region's manufacturing industry is in terminal decline is missing the larger picture. Whilst teetering on the brink of recession, many view the current climate as the perfect time to invest.
Automotive
 Perhaps no single industry is more entwined with the fortunes of the West Midlands than automotive but 2019 has been extremely tough for the car industry.
Jaguar Land Rover's ten-year cycle of growth under the ownership of Tata Motors has come to an end, with sales down globally and its massive programme of investment stalled. There are even rumours the company could be vulnerable to a takeover, with rival BMW poised to step in.
Hundreds of companies which comprise JLR's supply base are collectively holding their breath, waiting with some apprehension about the year ahead.
Elsewhere, Honda has announced the closure of its Swindon plant, BMW has switched some of its engine production away from Hams Hall, the future of Vauxhall is being questioned and Aston Martin needs to see a major return on investment in a new factory and its venture into the SUV market.
All these companies are supplied by West Midlands-based component firms.
However, the development of new battery technology could be the region's salvation.
Its commitment to lead the next generation of automotive propulsion is evident from the development of the £126m UK Battery Industrialisation Centre (UKBIC) in Coventry. The government has backed the project with £80m, which was topped up in May 2019 by a further £28m, awarded through the Local Industrial Strategy for the West Midlands.
The West Midlands Combined Authority (WMCA), keen to see the region become the national centre for industrial battery manufacturing, has also awarded it £18m.
JLR would be amongst the first to benefit as it ramps up electric vehicle production. It has already pledged to building the next generation Jaguar XJ at its Castle Bromwich plant, which will become the home of the company's Electric Drive Unit (EDU).
It has also confirmed the development of a new Battery Assembly Centre at Hams Hall. The new facility is expected to be operational during 2020, with initial capacity thought to be around 150,000 units.
The UKBIC consortium, supported by the WMCA and JLR, is now putting pressure on the government for a new gigafactory, capable of producing batteries in sufficient numbers to make them commercially viable and hence electric vehicles, more affordable. So, whilst the fate of the West Midlands' manufacturing economy remains on a knifeedge, 2020 could yet be the most defining year in its long history.
Aerospace 
After automotive, aerospace and defence remain key supply sectors for many West Midlands manufacturers. Whilst conditions have been tough, there are now signs of a revival.
Meggitt, which is centralising much of its UK operation at a brand new £130m headquarters in Coventry, has secured a six-year $130m deal to supply fuel bladders for the F/A-18 Super Hornet, V-22 Osprey and the CH/MH-53 Super Stallion aircraft.

GKN's King's Norton facility manufactures commercial and military flight deck transparencies.
Elsewhere, Warwickshire-based Melrose, which sparked outrage amongst many with its hostile takeover of GKN, maintains the group's aerospace division is the jewel in its crown.
GKN Aerospace sales grew more than 5% in Q3 2019 compared with the previous year, outperforming the Melrose board's expected longer-term growth rate. In addition, the division saw good margin improvement compared to Q3 2018, offering hope for better things in 2020.
GKN Aerospace – Kings Norton delivers commercial and military flight deck transparencies to a global customer base. This site provides toughened glass flight deck windows and specialist safety glass to over 50 programmes including: Airbus A320neo, Boeing 747-8, Boeing P8 and AgustaWestland AW159 and AW101, as well as a range of toughened glass products for civil and military vehicles & locomotive applications.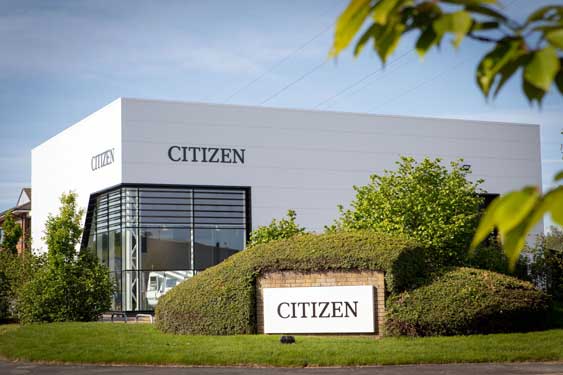 CITIZEN MACHINERY
Whilst many in the UK may lack confidence in its ability to weather the Brexit storm, this isn't necessarily true for the rest of the world. 
CNC machine tool specialist, Citizen Machinery UK (CMUK) has been the recipient of significant investment from its Japanese parent which despite the vagaries of Brexit, retains significant confidence in the UK manufacturing industry.
The company has looked to capitalise on growth opportunities globally by expanding production capacity at its factories in Thailand, Vietnam and the Philippines.
Yet the investment into the UK exceeds all of these. During 2019 the company underlined its confidence in the West Midlands by investing millions in the development of a new UK centre of excellence. The location of the new centre in Brierley Hill was deliberately chosen to place CMUK at the heart of its UK customer-base.
The 1,660m² facility offers extra space for preparing high-value, automated turnkey installations complete with programs, tooling and accessories.
The new centre, which has helped bring new jobs to the area, also comprises an international conference area, customer training school, engineering department and administrative offices.
Keiichi Nakajima, president of Citizen Machinery Japan, said: "Whereas other machine tool builders focus more on investing in emerging markets such as China and India, Citizen has always had faith in the quality of the UK engineering industry.
"Therefore, it was a simple decision on my part to commit to investing in this new facility. I am convinced this investment will bring significant benefits to Citizen including growing its market share."
Darren Wilkins, deputy managing director, CMUK, added: "Whilst the UK manufacturing industry may be experiencing headwinds, the demand for precision components is growing and we stand ready to fulfil that demand."
The company is looking forward to a busy 2020. It is exhibiting at SteelFab in Sharjah for the first time in January and has high hopes of securing further business at MACH 2020, which takes place at the NEC in Birmingham in April.
INVESTMENT 
In anticipation of a hard Brexit, smaller manufacturers are investing for the future by ploughing funds into the purchase of new machinery, re-tooling or upskilling programs. 
Despite the climate, investment opportunities persist, with banks and other funders keen to lend and capitalise when the market improves. 
Black Country-based A Perry, the UK's largest independent manufacturer and supplier of hinges, hardware and ironmongery, is one of those to benefit. It secured £7.33m from HSBC UK, which has been keen to underline its credentials as a Midlands-based institution following the opening of its new national headquarters in Birmingham. 
The finance package will allow the family-run business to invest in the latest robotics technology with the aim of doubling turnover over the next four years. 
Expansion
 Protolabs, a digital manufacturer of custom prototypes and low-volume production parts, is ploughing £5m into the expansion of its European headquarters in Telford. The 50,000 sq ft extension will house at least 50 new CNC machines, in addition to a further 20 injection moulding presses. 
The investment, which will help meet growing demand from the automotive, aerospace, medical, electronics and heavy industry sectors, will create 60 new jobs, taking its workforce to 500. 
Reshoring 
Albert Jagger Engineering, which supplies the commercial vehicle bodybuilder, boat builder, agricultural and engineering industries, secured investment from its parent company to reshore up to one million products back to the UK from China. 
Production of its Antiluce Fastener will return to its Bloxwich factory for the first time in almost 20 years, benefitting the business in terms of shorter lead times and price guarantees. 
By bringing everything in-house, the company will regulate batch quality control more efficiently by dramatically decreasing lead times, a process which could take up to six months in China. 
The practicalities of such a strategy are many, especially as producing goods in China is no longer as viable as it was due to rising labour costs. 
TOTAL MANUFACTURING OUTPUT
MANUFACTURING OUTPUT AS % AGE OF REGIONAL OUTPUT
MANUFACTURING AS % OF REGIONAL EMPLOYMENT
TOTAL EMPLOYED IN MANUFACTURING
AVERAGE MANUFACTURING SALARY AS % OF REGIONAL AVERAGE