THE DEBATE OVER ELECTRIFICATION VERSUS THE INTERNAL COMBUSTION ENGINE HAS POLARISED INTO OVER-SIMPLIFICATION AKIN TO ORWELL'S "FOUR LEGS GOOD, TWO LEGS BAD." BUT POLITICIANS AND COMMENTATORS PROPHESYING THE DEMISE OF THERMAL PROPULSION SYSTEMS BY 2040, TO BE UNIVERSALLY REPLACED BY BATTERIES AND ELECTRIC MOTORS, ARE INACCURATE.
By Ian Adcock
There will be multiple power sources for future road transport including electricity, hydrogen and combustible fuels derived from oil, carbon capture, bio-fuels from non-food stock and, even though it sounds like heresy given the current furore, diesel. The simple reason is that no one fuel is the silver bullet to lower emissions; future transport will require different solutions according to local needs and resources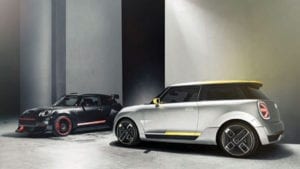 John Beasley, the Advanced Propulsion Centre's director of technology and projects explains that its 2017 road map shows a faster rate of change towards increased electrification than had previously been envisaged, "We see thermal engines as the secondary power source, and range extenders with batteries being the primary."
It's a point not lost on University of Bath's Professor of Automotive Propulsion, Chris Brace.
"The challenge to car makers, electricity suppliers and infrastructure providers is extremely significant. Much more research is required in all of these areas, particularly the vehicle propulsion systems," he said. "The route to a fully carbon free future requires coordination of activity across the global energy sector, which must include aviation and heavy duty applications. Currently, there are no practical alternatives to fossil fuels in many cases. Research into commercially viable alternative, energy-dense fuels that are carbon neutral is ongoing at Bath and around the world.
"As these fuels become available at scale, exciting new opportunities for sustainable and clean road transport will become available," he continued. "Advanced plug-in hybrid systems, combining electric propulsion systems with prime movers using novel thermodynamic cycles or advanced fuel cells, are a promising approach." These technologies are likely to be a route to address transport needs that will remain technically or commercially unsuited to battery electric solutions, Prof Brace believes. The prime mover in each case will be tailored to the properties of future carbon neutral fuels. Research conducted at the Institute for Advanced Automotive Propulsion Systems will be at the forefront of such developments. However, Professor of Industry at Aston University, David Bailey, is more bullish about future electrification.
"Costs are coming down and range is improving and I expect a tipping point in the early 2020s, when electric cars will outperform the internal combustion engine. We need to continue supporting them in terms of subsidies and infrastructure. Given the scale of CO2 reductions needed, 45 per cent by 2030 is not feasible – unless by electrification on a big scale – from an air quality point of view." However, he also had a warning to share.
 "If the UK and European OEMs don't wake up to this then they will be overtaken by the Chinese becoming the world centre for electric car production. I appreciate that there are technical challenges but, as a society, we need to back this up with more backing for R&D and infrastructure, otherwise we face large chunks of the automotive business being wiped out." UK
NEWS IN BRIEF
The UK Battery Industrialisation Centre is a 20,000 sq mtr manufacturing and development facility capable to run and trial electrodes and cells as well as trialling new battery manufacturing processes; as well develop skills and training.
 UKBIC provides bespoke facilities to develop and prove materials, cell design, manufacturing processes and parameters "at rate" prior to full plant investment.
Prodrive has built 20 demonstrator Ford Transit Plug-in Hybrids for a 12-month pilot trial in London. The biggest challenge set by Ford was that the van's loading capacity, load bay area, gross vehicle weight and body-in-white had to be retained. It is powered by a 1.3-litre Ecotec engine and a prototype Ford battery pack to deliver 30 miles electric range and 300 combined, despite its fuel tank shrinking to 7.7 gallons.

"Business for us is strong" says Cosworth Powertrain managing director, Bruce Wood, "for the first time in a long time we can see many years into the future and it looks alright." He cites as an example the two-litre ME petrol engine developed for a Taiwanese client that uniquely combines variable valve lift and cylinder deactivation so that 80 per cent of the operating map delivers a brake thermal efficiency greater than 30 per cent. It offers fuel efficiencies to rival a diesel and eliminates the need for costly exhaust aftertreatment.
The UK's hydrogen power infrastructure continues to grow, with the opening of a new hydrogen fuel filling station in Swindon. The facility, located at Johnson Matthey's premises, is the seventh to be launched by energy storage and clean fuel company ITM Power. Its location in the M4 corridor helps build a chain of hydrogen fuel sites that extends from Rainham in Essex to London and north to Rotherham and the Orkney Islands.
 The station generates its hydrogen on-site, so no deliveries are required. Its electricity supply is via a renewable energy contract and is the first of two UK stations to be deployed as part of the pan-European H2ME2 project, funded by the European Fuel Cell and Hydrogen Joint Undertaking and the Office for Low Emission Vehicles. A second station was due to open at Gatwick Airport before the end of the year.