A WIND OF CHANGE
By Brian Davis
Faced with a shrinking market in the mostly mature oil and gas fields of the UK Continental Shelf, manufacturers of everything from compressors, valves and well tools to remotely operated vehicles (ROVs) are looking to new field developments in export markets, while also diversifying in the fast-growing offshore wind market.
A
wind of change is blowing through offshore energy equipment suppliers.
The transition from oil and gas towards renewable sources including wind, solar and tidal, is a key area of focus. To some extent, oil and gas related supply chains are adapting to serve the offshore renewables sector in terms of maintenance and repair and production of structural elements.
Decommissioning
There are also new opportunities with the decommissioning of old oil and gas platforms and pipelines here and abroad. UK expenditure on decommissioning is expected to be about £1.5 billion per year over the next decade according to the Oil and Gas Authority (OGA). Looking globally, Wood Mackenzie forecasts that $82 billion will be spent worldwide on decommissioning over this period.
Challenging times
Revenues in the UK offshore oil and gas supply chain have shrunk by about one-third, from almost £40 billion in 2014 to £27 billion in 2017 (according to last available data from EY OFS Report 2019). The industry has seen lower investment levels, reduced contract rates together with significant optimisation. The OGA is working with the industry to reduce costs of UKCS projects by 35% by 2022. Oil & Gas UK (OGUK) Economic Report maintains there has been some growth and improvement in investment levels during 2018/9.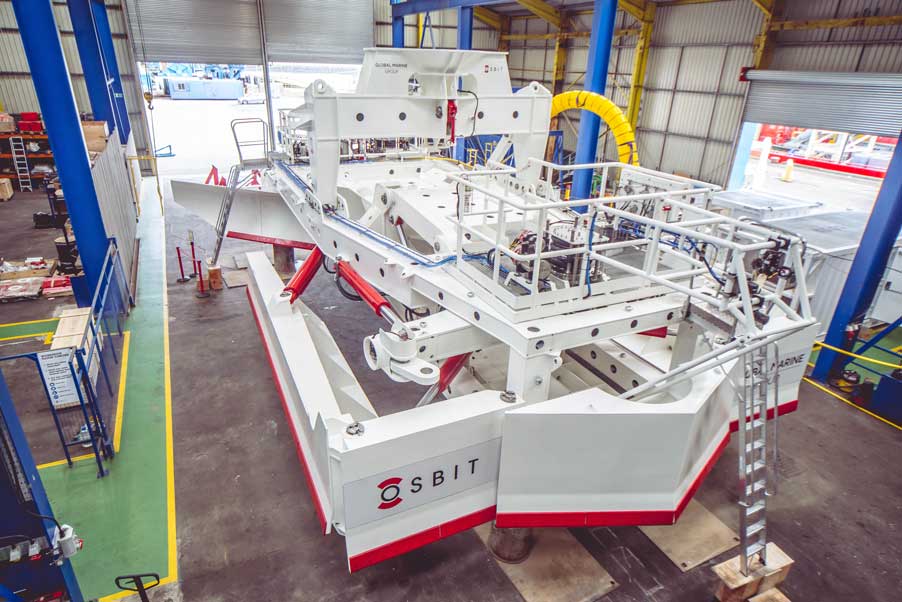 Many supply-chain companies have diversified into other energy sectors, though the oil and gas business remains the primary source of income for more than half of OGUK members. The OGUK Roadmap to 2035 estimates that the UK government drive to achieve net zero greenhouse gas emissions by 2050 could create £10 billion in value through new technology and innovation.
With eyes on building new export markets after decades of North Sea development, those suppliers that have survived volatile oil prices, slashed costs and highly competitive markets are for the most part feeling positive.
Future prospects
Given UK supplier's five decades of experience developing North Sea oil and gas platforms, prospects for winning business in rapidly evolving markets in South East Asia, China, India and Africa and elsewhere look hopeful. Many initiatives will be driven by new collaborative partnerships. Decommissioning, field automation and digitalisation will be key driving forces for UK manufacturers and software service providers.
The success of offshore wind development in UK waters signals the potential for significant opportunities in a host of export markets also.
EVENTS AROUND THE ENERGY SECTOR
Expansion
Expansion of the Baker Hughes Montrose Subsea Centre of Excellence benefited from a £31 million investment by the GE-owned company, supported by £4.9 million through Scottish Enterprise. The campus provides a 'one stop shop' with advanced manufacturing technologies serving global activities and the energy transition.
Leaner operations
Unique Group's Buoyancy and Ballast Division provides Water Weights and Seaflex products for over 100 countries, manufactured at various facilities including plants on the Isle of Wight and in Aberdeen. Mid-2019, Unique Group made a multi-million investment in assets, technology and people, including an upgrade of its Aberdeen premises. Seaflex recently invested in three Forsstrom high frequency welding machines.
'The investment has facilitated manufacture of 110 tonne water weight bags and removed a large degree of manual handling,' says Graham Brading, Unique Group's Buoyancy and Ballast Group Director. 'The company has also adopted lean initiatives throughout its global manufacturing facilities, to increase productivity and quality.'
Storm of activity
Today, over a third of UK electricity comes from renewable sources, with wind farms providing half the clean power. The UK is a global leader in offshore wind, with more capacity installed than any other country and has outstanding export opportunities. The Offshore Wind Sector Deal announced by the Government and industry in March 2019 ensures that by 2030 the UK will be generating over one third of electricity from offshore wind alone – trebling capacity to 30GW. Under the sector deal, the value of exports of offshore wind goods and services is set to increase from about £500 million, to £2.6 billion a year by 2030, according to the Office for National Statistics. The third auction for wind licence contracts to generate power (Contracts for Difference) saw a record amount of new offshore wind capacity procured at record low prices, notes RenewableUK.
WELL CLEAN UP
Well-bore drilling, plug and abandonment tool makers Coretrax, based in Aberdeen, recently acquired Churchill Drilling Tools. 'This acquisition increased our downhole product portfolio and manufacturing capability, while we progress with plans to broaden our well construction and intervention offering,' says Kenny Murray, CEO, Coretrax. 'We are forming a group structure which will also include Mohawk Energy, North America and Asia Pacific. These are target markets in the year ahead.' Coretrax has experienced sustained growth this year with new contracts and project renewals in the UK, Middle East and South East Asia.
BIGGER BLADES
Siemens Gamesa took the plunge in 2016 to invest £310 million with Associated British Ports in a massive factory in Hull and execution port, making wind turbine blades up to 75 metres long initially. In 2019, the company invested a second tranche and has begun manufacture of 81.5m blades.
'Producing wind turbines is a bit like an arms race – there's always demand for bigger!' remarks Ray Thompson, Head of Business Development in the UK. 'The market is amazingly positive, particularly with the new UK Government sector deal commitment. Offshore wind has made the transition from being very expensive technology to a cheap, accessible source of green electricity production.'
Blades are cast in a single construction with three raw materials, fibre glass matting, fibre glass resin and balsa wood. Fibre glass is layered into a mould, with a former in the centre and strips of balsa wood to give it strength. Resin is drawn in under vacuum and the blade dry cast as a single piece. 'The lay-up process is very labour intensive and cutting the fibre glass matting requires "almost fabric and tailoring skills" to handle complex patterns,' explains Thompson.
Siemens Gamesa has supplied blades for several UK windfarms including Hornsea 1, the biggest offshore windfarm in the world, and will be targeting markets across Europe, the US and Asia.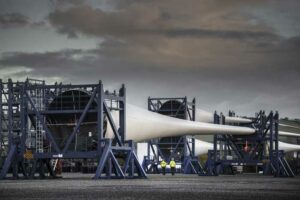 NEW RENEWABLES FOCUS
Cheshire-based steel designer and fabricator Hutchinson Engineering made the switch from the oil and gas sector to focus primarily on the offshore wind farm market four years ago, as well as serving the telecom and rail business. The company supplies bespoke access platforms, ladders and other large plant support structures.
Hutchinson Engineering has doubled in size to over £20 million turnover since the new focus on renewables, with exports of about £5 million and employs 165. 'The new Sector Deal on wind contracts has been a big boost for us,' says Neal Scrivener, Business Development Manager, Hutchinson Engineering.
The plant has state-of-art machinery including a Ficep Gemini, 4kW Amada laser profile machine and HGG pipe cutter. Plate rolling, using newly acquired Sertom 35/50 4RV Bull rollers for large plate and Davi MCB 3028 rollers for smaller tower sections. In 2017, Hutchinson invested in a blast and paint facility at the port of Garston, to handle structures up to 32 metres long. Work is underway on internal platforms and decking for transition systems on the Hornsea 2 wind farm.
PLOUGHING AHEAD
Northumberland-based Osbit designs and manufactures offshore equipment for well intervention in oil and gas operations. The company also provides back deck and subsea systems for the fast-growing wind sector. A recent example is a boulder clearance and pre-lay plough for Global Marine, to be used on the Kriegers Flak wind farm for Vattenfall. Osbit is also currently producing a monopile gripper system, for Malaysian offshore contractor, Sapura Energy.
Osbit has produced equipment for offshore wind farms in the UK, Belgium, The Netherlands, Japan, Taiwan and China.
'We design and manufacture bespoke equipment for offshore activities and see particular growth in offshore wind cable and foundation installation. To meet these requirements, we are continuing to design and manufacture systems in the UK, but are also looking at production in locations more local to our clients' projects, such as our project for Sapura which will be primarily fabricated, assembled and commissioned in Singapore,' says Ben Webster, Sales and Tendering Manager.