Above: The new Costa roastery in Basildon, Essex, before it opened for full production.
Shortages of skilled and unskilled labour will become more acute as the realities of exiting the EU bite – in whatever form that exit plays out. Other effects already evident by December 2018 included the announcement by the Food & Drink Federation that chilled and frozen storage across the country was full to capacity, as manufacturers and importers hedged against looming supply-chain uncertainties.
In the Food & Drink Federation's (FDF's) quarterly business confidence surveys throughout 2018, companies consistently reported increased ingredient costs and exchange rate volatility as key risks to business success last year and into 2019.
"For SMEs, retail market consolidation was one of the top three barriers expected to impact the success of their business in 2019," Angela Coleshill, competitiveness director for the FDF, observed. Specific events included the takeover of Booker by Tesco, Nisa by the Co-op and the proposed merger of Sainsbury's and Asda.
Organic growth
Market segments offering growth prospects include organic products. Soil Association Certification, trade relations manager Lee Holdstock says: "Research suggests that sustainable and valuesbased propositions are becoming more downturn-resistant. This is perhaps the area where organic will stand out most prominently in 2019." Support from the discounters, such as Aldi and Lidl, has helped in terms of availability, he added.
"2019 will be an important year for food waste reduction," says Alan Hayes, sustainability and strategy manager for
Supply Chain at the Institute of Grocery Distribution (IGD). "All major retailers and half of larger food businesses have pledged to 'target, measure and act' under the Food Waste Reduction Roadmap."
More generally, he states: "[Our] retail trend predictions for [2019] put sustainability as one of the main focuses for both retailers and shoppers." For industry, this is not just about food waste, but about carbon footprint and, most visibly, choices regarding the packaging around its products.
In 2018, the Government proposed a new tax on plastics without at least 30% recycled content. This, along with a new waste strategy, overhauled funding mechanisms and proposals for a deposit return scheme for containers will all up the ante during 2019.
"Sustainable and values-based propositions are becoming more downturn-resistant."
As the above figures show, there is still value growth in UK meat sales but certainly not strong growth. Alyson Parkes, food and drink analyst at research company Mintel, says: "Eating red meat and poultry remains ingrained in Britain, with 90% of adults eating these. However, a sizeable 34% of meat-eaters have limited or reduced the amount that they eat."
The search for alternative proteins has given new importance to some neglected categories. For example, Petrow Food Group quotes Kantar Worldpanel figures saying that UK sales of nut butters grew by almost one fifth during 2017 to reach nearly £94M (see sidebar).
Sugar tax
The soft drinks industry levy, or 'Sugar Tax', introduced in April 2018, appears to have impacted on sales values in the category. But it may turn out to be only the first salvo in a Government-led fight against childhood obesity. "Clearer food labelling is also part of this effort," says GlobalData innovation insights director Tom Vierhile. "Ominously, the UK's decision to leave the EU likely gives the Government 'more flexibility' to determine what information should be presented on product labels."
In late 2018, the rush by major brands such Kellogg's and PepsiCo to embrace traffic light labels could be seen as an attempt to head off even greater, regulated visibility of sugar, salt and fat levels, he suggests.
Brexit: labour shortages
Other Brexit effects include threats to the workforce. According to FDF, the industry employs approximately 400,000 workers, some 117,000 of them from other EU countries. But 2017 already saw a drop in the number of EU workers, and this trend is continuing.
Co-founder of chocolate business Montezuma's Helen Pattinson says that, in the past, the company was always able to recruit workers for its Chichester factory. Many originally came from Europe to do summertime agricultural work. But now, far fewer are coming over, she says: "This is understandable. Sterling is worth far less than it was two years ago, and there is huge uncertainty about what their situation will be after March 2019."
Apprenticeships
Meanwhile, the Government has been trying to incentivise businesses large and small to buy into its Apprenticeship Levy, introduced in 2017. The autumn 2018 budget saw the announcement of a halving to 5% of fees payable by small businesses when accessing apprenticeship training. Small-to-medium-sized enterprises (SMEs) make up some 97% of the food and drink manufacturing sector.
Waste: a waste of money
One increasingly important metric for the industry is the amount of waste, and in particular food waste, it generates. At research and training organisation IGD, head of technical programmes Alan Hayes says: "Every year, the UK wastes £20 billion in terms of food that goes unused, and this comes to more than £300 per person." The industry's 'Food Waste Reduction Roadmap' aims to halve food waste by 2030.
GOING NUTS

Although best-known as an ingredients supplier, Petrow Food Group spotted an opportunity with nut butters and began operating a new £1.8 million production and packing line for food service, manufacturers and retail customers.
Flexibility is key, both in terms of product recipe and packaging. Commercial director Fatma AkalinMcGee says: "The line features mixing tanks that allow the adding of different ingredients and flavours, plus a mill, a jar-filling line, a sachet and tub-filling line."
Petrow can produce almond, hazelnut, cashew, pecan and pistachio nut butters. But allergy control is tighter here – as elsewhere – than ever before; the factory is maintained as a strict peanut-free zone.
ROASTING NOT COASTING
While many food and drink manufacturers continue to struggle in the face of retailer discounting, constrained consumer spending and economic uncertainties fuelled by Brexit, a core of brands – particularly in premium segments – are defying the odds.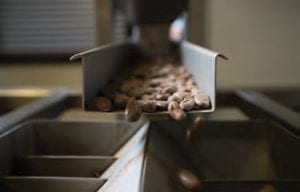 Hotel Chocolat is a prime example, having seen revenue growth of 11% in the year to July 2018. "We are also making significant investment in our manufacturing – in January we completed a £1.4m project to increase our molten chocolate handling capacity by 190%," says the company.
It was reported in September that the manufacturer was planning to complete construction of a fourth production line at its Huntingdon bean-to-bar factory by 2021, boosting capacity by a further 30%.
The brand exemplifies current upsides to UK food and drink manufacturing in other ways. It is truly 'multichannel', now boasting 113 of its own stores in the UK and overseas. It is pursuing franchise and joint-venture opportunities in Scandinavia, Japan and the US. Online sales through its website grew by 14% in the year to July 2018.
By having its own retail spaces, including 30 combined shops and cafés, the brand is taking its premium offering direct to the consumer. New introductions for autumn 2018 included an in-home 'hot chocolat velvetiser' and a 'chocolat' cream liqueur.
STRONG COFFEE, WEAKER CONFIDENCE

Coca-Cola's $5.1bn swoop on Whitbread's Costa Coffee business in August 2018 was an offer that the parent company was never likely to refuse. The spotlight fell yet again on a brand which had its own route to the consumer, rather than relying on the vagaries and tight purse strings of the multiples.
There is a 'production' side to Costa, too; the brand-owner opened a new roastery in Basildon, Essex, during 2017.
The move reinforced the narrative of overseas businesses buying up UK-owned brands and manufacturers. Earlier in the year, commercial law practice EMW estimated that 47% of UK food and drink businesses were foreign owned, up from 44% the previous year. Half of UK manufacturers having overseas owners feels like a significant milestone.
Costa Coffee's business model has kept it in control of its distribution channels, as well as production. Its special blend made it irresistible to the Coca-Cola Corporation, which acquired it from Whitbread in August 2018.
But not all new finance is coming from abroad, and nor are the largest investments necessarily the most interesting. In November 2018, Scottish-based private equity company Inverleith acquired a majority stake in Montezuma's. Like Hotel Chocolat (see separate story), Montezuma's is a premium chocolate brand. It was established by husband and wife team Helen and Simon Pattinson 18 years ago. "In the last four years we have doubled our sales," says Helen Pattinson. "Export has contributed to this growth, bringing in a new large US customer, but we have also started supplying Sainsbury's and Morrisons during this time."
Despite "extremely negative" consumer confidence, research organisation GlobalData points out that some brand-owners have seized on opportunities in the premium and better-for-you segments. "While consumer spending may have slowed overall, interest in occasional, indulgent experiences has risen as consumers look to get more for their money," says consumer analyst Jonathan Davison.
It is not only consumer confidence which suffered during 2018. In the Food and Drink Federation's (FDF's) quarterly business confidence survey, for example, just under 80% of businesses cited increased ingredients costs as the biggest impact on their business in Q3. "Economic uncertainty saw confidence decrease by 21 percentage points between Q1 and Q3 of 2018," says FDF competitiveness director Angela Coleshill.
Petrow's new £1.8 million nut butters line can produce and package almond, hazelnut, cashew, pecan and pistachio nut butters for foodservice, manufacturer and retail customers. Allergy control is top priority: the factory is maintained as a strict peanut-free zone.
On the positive side, it is always instructive to look at the companies targeted by private equity. Earlier in the year, alongside Montezuma's, Inverleith became a majority shareholder in Good Hemp and its portfolio of hemp-derived non-dairy milk, oil, protein flours and seeds.
Plant-based milk alternatives have been one of the growth categories of 2018, as have plant-derived alternatives to meat. Debate around meat-free and vegan options became mainstream, with leading meat-free brand Quorn estimating that the category is growing at 15% a year in the UK (see sidebar).
Kraft Heinz is backing plant-based foods with a different type of appeal. It continues to invest heavily in its Kitt Green site near Wigan. In the summer, it announced capital investment of £13.6bn in its Snap Pot baked bean line, having already upgraded canning lines for beans, pasta and soups.
Meat and poultry still account for a massive slice of the food industry, of course. In October, for example, Cranswick began construction of its £60M poultry plant at Eye in Suffolk, adding to the three processing sites and the farming operations it has across East Anglia.
MEAT-FREE GOES LARGE
THE OPENING IN NOVEMBER 2018 OF QUORN'S EXPANDED BELASIS, BILLINGHAM, FACTORY ON TEESSIDE SAW THE SITE OFFICIALLY CROWNED AS THE WORLD'S BIGGEST MEAT-ALTERNATIVE PLANT.
CEO Kevin Brennan makes a link between the new 20,000-tonne capacity and the need for major cuts in global CO2 emissions. By eating less meat, he argues, we can all make a significant contribution. "The opening of the new production facility will play an important role in this, as it doubles the production capacity of Quorn's core products," he says.
The expansion was part of a £150M investment in its mycoprotein-based products by Quorn Foods, which is owned by Philippines-based Monde Nissin.
Quorn's expanded factory in Billingham, Teesside, was officially opened in November 2018.
Quorn's expanded capacity at its Belasis, Billingham, Teesside factory is part of a £150M investment in its mycoprotein-based products in Quorn Foods by Philippines-based parent company, Monde Nissin. The company has seen an upsurge in sales, reflecting a strong reported rise in demand for meat-free and meat alternative foods.