BURSTING WITH INNOVATIVE GOODNESS 
Maybe Roald Dahl is the inspiration. The children's author seduced a generation of British children with Charlie and the Chocolate Factory and his sweets, like Wonka's Whipple-Scrumptious Fudgemallow Delight and the Everlasting Gobstopper. Not to mention George's Marvellous Medicine.
BY CHARLES ORTON-JONES 
Now those kids are adults and turning into Willy Wonkas of the food and drink industry. The breakout products of 2019 were definitely Dahlesque: both wacky and wonderful. Nim's Teas, a brand of air-dried crisps, made from tomato and cucumber, brussels sprouts, and watermelon, represents the latest move is into "edible teas". The tea bags contain dried fried and veg, with which you make tea. Then later, rather than dispose of the bag, you open it and eat the rehydrated food inside. Flavours include Beetroot & Parsnip tea, and Pineapple & Kiwi.
"There's no doubt the British are more receptive to unusual ideas," says founder Nimisha Raja. "We tried exporting our crisps to Spain and Belgium, but they weren't quite ready for us!" She says the rest of the world is waking up to British ingenuity in the food and drink market: "I go to trade shows and visitors want to find out what the Brits are doing. We are the innovators now."
Authentic canned water 
The winner of the World Beverage Innovation Awards in the premium category was Larkfire, a canned water for diluting whisky with. It's niche, for sure "If you are going to drink a special single malt, or blended whisky, you don't want to add chlorinated tap water," says co-founder and CEO James McIntosh. "We took a journey across Scotland to find the best water, amongst metamorphic insoluble rock. And we found it in the Outer Hebrides, where the rocks are 3.5 billion years old. The water is incredibly pure."
Larkfire cans are recyclable (important) and lighter than bottles (great for export). The export potential is there. Whisky is the UK's largest food or drink export by a distance. At £2.2bn, the value of whisky exports is five times greater than salmon, the second most valuable. McIntosh sees a prosperous market for his water in markets like China and India. "These are countries where you don't want to drink tap water." And is Britain truly an innovator in food and drink?
"It appears so. Look at Fever Tree in tonics, the craft breweries, and the number of new distilleries. It's in our psyche."
Nim's Teas tea bags contain dried fruit and veg, which are designed to be eaten after use in infusions
Gregg's scored a PR and market hit with the introduction of its vegan sausage roll in 2019. Credit: Gregg's. Below: Nim
Larkfire canned water is specially extracted from multi-billion-year-old rocks in the Outer Hebrides to perfectly complement premium Scotch whisky.
Veganism 
In additional to the fad for wild new products, one big trend overshadowed all others: the rise of veganism. Veganism has been increasing for a while in the UK. Vegan Society surveys by Ipsos Mori suggest numbers have quadrupled since 2014 to 600,000, with many more "flexitarians". A YouGov poll showed the over 55s were the keenest. Converts such as Lewis Hamilton, boxer David Haye and Arsenal vice-captain Hector Bellerin caught the mood of the nation. Hamilton opened a vegan restaurant in August, generating the sort of publicity you'd expect from a serial world champion.
The start-up of the year, awarded by The Grocer magazine, was Freaks of Nature, a dairy-free dessert brand. Founder Pete Ahye rode the vegan boom to launch chocolate mousse, sticky toffee pudding, and cherry bakewell, all dairy-free and gluten-free. Freaks of Nature is now stocked by all major supermarket brands.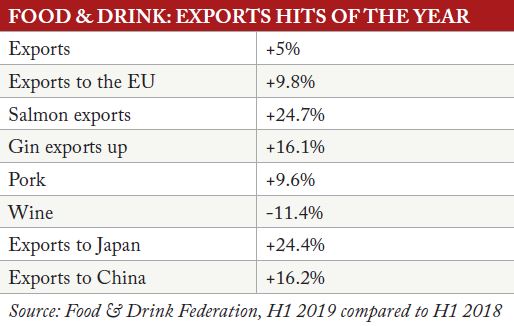 The environmental merits of meat-free diets gained traction, taking the issue beyond mere animal welfare. Goldsmiths College voted to ban beef from the university cafe for eco reasons. The University of Cambridge, which removed lamb and beef from menus in 2016, announced removing meat from menus had cut carbon emissions by a third per kilo of food purchased. Even the National Farmers' Union unveiled plans to go carbon neutral by 2040.
Bakery chain Greggs scored the PR success of the year with a vegan sausage roll. Shares rose 50 per cent on the back of several weeks of glowing publicity. The CEO later announced he was going on a vegan diet. Even pro-Brexit entrepreneur Tim Wetherspoon endorsed the shift to veganism. His JD Wetherspoon chain signed a deal with Leeds-based The Meatless Farm Co following a successful trial. Meatless Farm will provide plant-based burgers to nearly 900 Wetherspoons nationwide. In December, Meatless Farms appointed former Lidl boss Jesper Højer as chairman – a sign of the momentum in the sector.
Another British plant-based burger producer, Moving Mountains, continued international expansion in 2019. It launched in Hard Rock Cafes across Europe, moved into Australia via 850 Woolworths stores, and Spain in the Carl's Jr chain.
The end of meat as we know it? 
2019 was the year artificial meat entered popular consciousness. This is lab-grown meat, supposed to look indistinguishable from the real thing. The United States leads the field, with companies Impossible Foods and Beyond Meat gathering serious investment – the latter being valued at $9 billion. But the UK is in the race too. Higher Steaks is a Londonbased startup founded by chemical engineer Benjamina Bollag and Dr Stephanie Wallis, a cell regeneration expert. Scientific director David Hay is chair of tissue engineering at the University of Edinburgh. Higher Steaks plans to bring lab-grown pork to markets in 2021. The advantages are plentiful. No cruelty to animals. Higher Steaks needs no antibiotics, and the sterile lab conditions eliminate food-borne diseases. The method is eco-friendly too: cell-based meat has the potential to cut down on carbon dioxide emissions, methane, and water usage associated with animal husbandry.
Scientists at the University of Bath announced in March success in fostering pig cells on an edible "grass scaffold" – inspired by the natural diet of pigs. The goal is lab-grown bacon. Money moves in Investors are backing the trend. The FAIRR network of investors brings together a group including Invesco, Legal & General, Aegon Asset Management and others, totalling $2 trillion in assets. The goal is to raise awareness of the risks caused by intensive livestock production. FAIRR likens modern animal rearing to the use of coal in the energy industry: unsustainable. Antibiotic resistance alone poses an existential threat to the farming industry, it argues.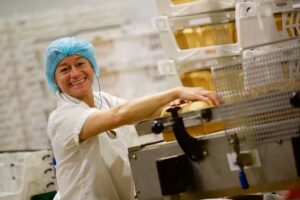 In tandem with the move to sustainability is the resurgence in "buy local". A survey by Made in Britain, a lobby group for British agriculture, found 63 per cent of the public believed buying British could help combat climate change. Eight in ten are prepared to pay a little more for something made in Great Britain.
Naturally, some of the biggest success stories of the UK food and drink industry fused these trends together. For example, The Wheatsheaf pub in Chilton Foliat, near Hungerford, Berkshire, won business of the year at the Sustainable Food Awards. It combines low carbon thinking, local sourcing, meat alternatives, and true imagination on the menu. Owner and chef Ollie Hunter cut down on meat the menu – you may find mushroom burgers. The pub grows its own herbs and fruit on-site. Roses are turned into rose jam and pears into a tarte tatin. The honey is from the local park. Even the electricity is sustainably sourced from Ecotricity, which uses wind turbines and carbon neutral gas mills. It's a vision of the future.
UK WINE: FIZZING OR FIZZLING?
Who'd be a wine maker? The UK industry is plagued by volatility. In 2012 the rains came and washed away any profits for English wine makers. Nyetimber, the biggest English brand, announced it would produce no sparkling wine at all that year.
By contrast, 2018 was a bumper year. Production rose 130 per cent on 2017. Sales of English and Welsh wine doubled, and exports doubled.
In theory the sector is full of promise. The area under vine in the UK increased by 160% in the past decade to 7,000 acres. A further 2 million vines will be planted this year. Makers are improving their viticulture: Chardonnay, Pinot Noir, Pinot Meunier and Bacchus account for 76% of all plantings in Britain. And the makers are tapping a popular niche: almost three-quarters of UK wine is sparkling.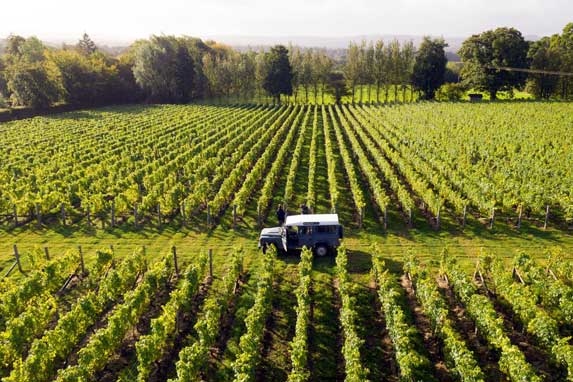 The Wines of Great Britain association believes up to 30,000 new jobs could be created by 2040, up from 2,000 today. Vineyards are also great for tourism. The association estimates tourism could generate £658m in revenue a year by 2040.
Chapel Down in Kent is a believer in the future of English wine: it is expanding vineyards, targeting 2.2m bottles a year by 2020. Bank borrowings rose from nothing to £6.5m in the last reported period.
The prosperity of the UK wine industry depends, of course, on fine weather. 2018 was a hit. 2019 was "back to normal". A bad year can hammer the industry.
The quality is there. Buyers are enthusiastic. And investment is pouring in. But the unpredictability of the climate makes British wine a bet for hardy investors.
CATCHING THE BUG
Husband and wife team entomologist (insect scientist) Dr Sarah Beynon and chef (food wizard) Andy Holcroft established Dr Beynon's Bug Farm (or 'The Bug Farm') in 2014. Sarah is an academic, ecologist and farmer, with a doctorate from the University Oxford. Andy is an award-winning chef of 25 years. The Bug Farm is a research centre, working farm and visitor attraction showcasing their passion for sustainable agriculture and delicious food. Sarah's research inspired Andy to invent recipes using insects which evolved into dishes in the 'Grub Kitchen' restaurant, the first full-time entomophagy restaurant in the UK. The Bug Farm has evolved into an award-winning attraction and academic centre of excellence, winning the Best Start-Up Business of the Year in 2016 and the Sustainable/CSR/Green Business of the Year in Wales in 2017.
DATA BOX
Food & drink contributes £31.1bn to the economy
The food & drink industry is the biggest manufacturing sector in the country, accounting for 19% of total UK manufacturing and larger than automotive & aerospace combined
The food supply chain employs 4 million people & generates over £121 bn of added value each year
97% of food & drink businesses are SMEs
Over 450,000 people directly employed
Exports in 2018 were worth more than £23bn
Exports of branded food and non-alcoholic drink grew by a third to reach £6bn by 2020
The food supply chain employs 4 million people & generates over £121bn of added value for the economy each year 
FOOD & DRINK: NEWS IN BRIEF
Coca-Cola European Partners invests £20m 
A new production line at CCEP's Edmonton Factory line will make Bag-in-Box products, which contain concentrate for food service and licensed operators to mix with carbonated water to dispense draught soft drinks. The format saves 48,400 tonnes of CO2.
Princes £80m investment
 Princes has completed the first phase of a planned £80m investment in its Long Sutton site in Lincolnshire with the opening of a new pea plant at the facility, and a £5m investment plan to modernise pack designs and formats across all its product categories.
Britvic boosts rPET packaging 
Britvic has announced a long-term agreement with Esterform Packaging for the supply of recycled plastic (rPET). Esterform will become Britvic's preferred supplier of rPET in Great Britain and Ireland and receive a £5m invesment from Britvic towards the construction of new manufacturing facilities at its North Yorkshire site.
Avara Foods' £6.5m investment 
Avara Foods has invested £6.5m in its Hereford site, including the installation of a suite of new technology, boosting production capacity by 100,000 chickens per week. The facility supplies chicken, turkey and duck to retailers, food service and food manufacturers.






Kellogg UK drives to reduce organic waste 
By 2030, Manchester-headquartered Kellogg UK has announced that intends to cut organic waste by 50%, as part of its global 'Better Days' corporate commitment. Company initiatives to reuse 'imperfect' but edible product include supplying Salford-based brewery Seven Bro7hers with 'less-than-perfect' Kellogg's Rice Krispies, Coco Pops and Corn Flakes for use in making beer.
Wensleydale Creamery £17.9m investment 
Following a £17.9m deal with HSBC UK and £800,000 EU productivity grant, North Yorkshire's Wensleydale Creamery is to purchase new vats, working tables and cheese-making and curd-handling equipment. Almost £1m will go towards a more efficient cheese blending and waxing facility. A new cheese smoking plant, along with water recycling and increased milk storage capacity, are also planned.
Taylors of Harrogate investing £14m 
Yorkshire-based Taylors of Harrogate has recently completed the installation of a new tea blending area as part of a £14m investment, which increased production capacity by extra 50%. Taylors has moved to 24/7 production for the first time in its 130-year history, to accommodate growing demand in the UK and internationally.
Müller completes £50m expansion 
Muller's project to build a chilled yogurt manufacturing facility capable of producing 500 million pots each year at its site in Telford, has been completed. The £50m project doubled the size of the site, increased its capacity to make products in a range of formats and created 65 new jobs.
Wrights Food Group invests £7m at Crewe factory 
A year-long, £7m investment project at Wrights Food Group's Crewe factory, backed by a £3million funding package from Lloyds Bank Commercial Banking, included the introduction of a new savoury production line, ovens and cold storage facilities. Wrights, which has an annual turnover of £60m, supplies pies and other savoury food products to more than a third of clubs in the English Football League.