While UK shipbuilding continues to descend into the doldrums, production and profits remain on a strong upward trajectory for British yards designing and building small craft and luxury superyachts. Dennis O'Neill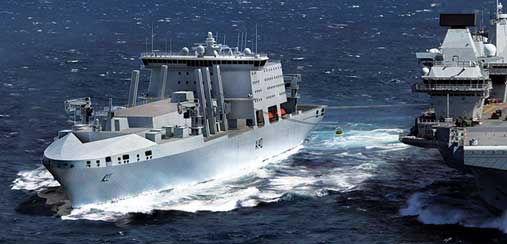 For centuries the United Kingdom has enjoyed enormous economic benefits from the global success of its diverse and innovative maritime sectors. Today, though, its boat builders and commercial shipyards face contrasting fortunes. While the shipbuilding sector sinks to its knees, crippled by a gloomy and uncertain future, the leisure boat sector is booming. Naval problems In 2019 three leading commercial shipyards fell into severe financial difficulties – two hundred jobs were lost at Appledore shipyard in Devon after Babcock International chose not to renew its lease; the Ferguson Marine shipyard in Glasgow had to be taken into public ownership, with £50m of taxpayer loans written off after it failed to deliver a ferry contract; and in Belfast, Harland and Wolff, famous for building Titanic, was saved from closure at the last minute after a London-based energy company stepped in with a £6m rescue deal.
The MOD's tender process to build support ships for the Royal Navy's two new Queen Elizabeth-class aircraft carriers has been abandoned. Credit: MOD. The precarious outlook for British shipyards has been blamed on the UK government's flawed National Shipbuilding Strategy, launched in 2016, which has now floundered dramatically. Central to the problems has been a tendering procedure set out by the Ministry of Defence for £1.5bn in major naval contracts – including ships needed to support and supply the Royal Navy's two new Queen Elizabeth-class aircraft carriers – that proved so unsuccessful it was suspended in December 2019, leaving most of the UK shipbuilding industry with no idea of how to view future prospects.
Superyacht success
Meanwhile, figures released in September 2019 by British Marine reveal that the UK's superyacht sector had recorded its seventh successive year of growth. In 2018 45 yachts, combined value over £24m, were produced in the UK, including three sailing yachts; as 2019 drew to a close 109 yachts were on order or under construction. In terms of volume, the UK is now the world's third largest builder of superyachts. Two-thirds (66%) are exported, mainly to the US and Eurozone; important growth regions for new sales include emerging markets in Southeast Asia and the Middle East. Sailboat sector At the other end of the size scale, the UK continues to be an important player in the global sailing dinghy market. After a post-recession decline, UK production is once again posting strong figures, having grown 6.7% from 2013 to 2016. The sector is dominated by a handful of manufacturers, led by Topper International and Laser Performance Europe, who each produce thousands of units annually.
A number of smaller companies specialised in producing larger cruising sail yachts, with a handful of significantly sized manufacturers, such as Oyster, Discovery, Rustler and Spirit. In 2018, Oyster almost went under; with reduced output from that company, overall UK sailing yacht production was down 7% year-on-year to 79 units in 2018.
Motorboating
With almost 600 units produced annually, a key component of British boatbuilding is production of motorboats under 12m. The sector includes small motor launches and speedboats to cabin motorboats and larger cruisers and, like sailboats, is served by numerous smallscale producers and a handful of significantly sized manufacturers, such as Orkney, Hardy, and Seaward. After a serious decline between 2008 and 2009, motorboat production has remained relatively consistent for most years since. With a slow domestic market, builders in this sector are increasingly looking towards overseas markets, especially Scandinavia and northern Europe, where smaller motorcruisers are a fixture of family life.
Production of mid-sized motor yachts (12-24m) declined heavily after 2008 and now accounts for less than a third of its pre-recession output. Production volumes also reduced as some UK motorboat builders shifted focus towards the production of superyachts.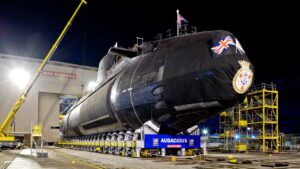 LOOKING AHEAD
One UK shipyard that is managing to look forward to the future is Cammell Laird. In 2018 the Merseyside yard won two 10-year contracts, worth £619m, to support the Royal Fleet Auxiliary and was awarded a £160m contract to upgrade and modernise the propulsion systems on the Royal Navy's Type 45 destroyers. It also agreed a long-term deal with BAE Systems to support the construction of the Royal Navy's next generation of Astute-class nuclear submarines. Its participation has been aided by investment in a new nuclear research and development hub, in partnership with the Nuclear Advanced Manufacturing Research Centre (NAMRC).
SUNSEEKER
Sunseeker has become the iconic British superyacht brand. It has delivered 137 yachts over 30m since 2000 and, in 2020 it plans to double the number of models it has on offer, to 22. While the majority of these will be built conventionally in GRP, its largest superyachts – including the new 161 Yacht – will be constructed in aluminium. Sunseeker's new CEO, Andrea Frabetti, has initiated a substantial product development programme, which will see the company invest £60m over the next three years.
PRINCESS YACHTS
Plymouth-based Princess Yachts employs more than 3000 people across seven plants. In 2019 it built more than 250 vessels, marking six consecutive years of strong growth, and returning an annual profit of £29.8m.
The company designs and fabricates all of its components in-house, builds its own plugs using a pair of five-axis cutting machines, and uses resin infusion to create decks and superstructures.
"None of our components is sourced off the shelf or from third-party firms," explains technical manager, Paul Bailey. "Everything is designed and built by our own craftsmen to ensure a much more artisan and bespoke finish than you would you get from any other boatbuilder."
Each new Princess model is initially built, in exhaustive detail, full-size out of plywood, enabling the designers to step on board and examine it thoroughly first-hand and explore head heights, door openings and spatial arrangements. Any snags can then be tweaked before production begins. A key driver behind Princess's success is the manufacturing approach of chairman, Anthony Sheriff. After arriving from the automotive sector, he invested heavily in a 'No Fault Forward' quality management system, which identifies any faults early in the build process, so they can be remedied before being passed to subsequent production stages.
RIBS ON THE RISE
RIB manufacturing is one of the UK's great boatbuilding success stories, with large volumes produced for the leisure market as yacht tenders and high-speed pleasure craft. After a prolonged decline between 2008 and 2012 it has finally returned to pre-recession levels, with 1060 units built and sold in 2018. Production volume is led by Williams Jet Tenders, which builds a range of waterjet RIBs under 7.5m, followed by a number of highly respected brands including Ribeye, Ribcraft, Cobra, Rib-X, Scorpion, Pascoe and Redbay, which produce 7.5m to 12m craft.
POLAR PUSH
Officially launched by the Duchess of Cambridge in September 2019, RRS Sir David Attenborough is the most advanced polar research vessel in the world. Representing a UK government investment of £200m, it will be operated by British Antarctic Survey, spending northern summers supporting Arctic research and during southern summers in Antarctica.
Sir David Attenborough was constructed at Cammell Laird using a modular system that bolted together several individually fabricated blocks. The129m ship will collect deep-ocean data using a fleet of robotic and remotely operated devices, including Boaty McBoatface, its famous 3.6m autonomous long-range submersible, which can be deployed to depths of 6,000m.
CANAL BOAT PRODUCTION
Canal boat production in the UK fell by a third between 2008 and 2009, and since then annual unit output has hovered around the 200 mark. Construction of new build narrowboats and Dutch barges is dominated by a small number of specialist bespoke builders such as Piper Boats, Colecraft Boats, Aintree Boats, Fernwood Boats, MGM Boats and JD Narrowboats.