THE RESILIENCE OF THE UK PACKAGING MACHINERY INDUSTRY IS DEMONSTRATED BY A STEADY GROWTH TRAJECTORY, DESPITE THE CHALLENGES POSED BY BREXIT, DECLINING HIGH STREET SALES  AND THE CONSUMER BACKLASH AGAINST PLASTIC.
"Economically, the packaging industry is generally performing well," SAYS Andrew Mint, CEO of the PPMA, the UK's trade association for suppliers of processing and packaging machinery. "If anything, investment in robotics and automation has increased, which has a direct correlation to Brexit and a fear of a migrating workforce."
This view that the packaging equipment industry is actually benefitting from Brexit is shared by others. David Jahn, director of Kent-based automation specialist Brillopak, notes that in the food and beverage industry, the issue of labour shortages has worsened since the UK voted to leave the EU, as pack house workers from Central and Eastern Europe return home. This has left companies no choice but to automate – a situation that plays into the hands of packaging machinery manufacturers.
"In 2016 it was the introduction of the new living wage; now, the impetus for automation has shifted – companies are having to automate because they can't get enough staff," Jahn says, adding that this scenario is most common at small and medium-sized companies; most blue-chip food and beverage organisations have already automated their packaging operations. For them, the justification for new projects comes from efficiency gains and labour reductions. He is equally sanguine about the industry's prospects in a post-Brexit era. "If the pound falls further, exporting will become a huge opportunity. In any case, the UK will still have a labour shortage."
Another packaging equipment supplier shrugging off suggestions of ill effects from Brexit is Bradford-based Advanced Dynamics, which experienced a 38% increase in sales of filling, capping, sleeving and labelling equipment this year. "Business survived 2008 when finance dried up and it will find a way through this," says MD Malcolm Little. Quantitative market data completes the picture of a stable industry in great shape. In its global packaging machinery report (www.technavio.com/report/global-packaging-machinery-market-analysis-share-2018), market research firm Technavio valued the packaging machinery market in the UK at US$920m (£730m) in 2017 and predicted that it will grow at a CAGR of 3.8% to reach US$1,108m (£880m) by 2022.
The relentless march of e-commerce is a major growth driver. The increase in online retail, coupled with demand for faster delivery (same day or next day), is fuelling the need for efficient logistics operations, which in turn is driving demand for packaging machinery, according to Technavio. The advent of the e-cigarette has created another lucrative opportunity. Advanced Dynamics describes this market as "buoyant", although Little suspects demand may have peaked. Whilst these emerging markets are providing dynamic new channels, the majority of packaging machinery manufacturers still rely on the food and beverage marketplace for 'bread and butter' business.
"Within the PPMA Group, we estimate that between 60-70% of packaging relates to the food and beverage industry; notwithstanding other household, pharmaceutical, chemical and construction goods," says Tim Paul, chairman of the PPMA Group of Associations. Notable investments in this sector during 2018 included Britvic's £100m in three new canning lines at its Rugby manufacturing site; Radnor Hills' £6m Krones line that will enable it to reduce the PET content of bottles; and Whitby Seafoods' third packaging line, incorporating tna's Robag bagging technology. There have also been numerous smaller investment projects, including: Fox's Biscuits' purchase of an Ilapak flow wrapper for its site in Kirkham, Lancashire; PG Amps' acquisition of a new Ulma thermoformer for packaging cold cooked meats; Endoline's end-ofline automation project at Marshfield Farm; and the sale of three Proseal GT1 tray sealers to North Yorkshire-based Heck Foods. Although a much smaller volume market than food and beverage, the pharmaceutical industry is another key target market. In 2017, it accounted for almost 10% of the packaging machinery market in the UK, according to Technavio.
The Falsified Medicines Directive (FMD), aimed at reducing the number of counterfeit medicines infiltrating the legal pharmaceutical supply chain within Europe, is a powerful motivator for both machinery innovation and investments. Since it came into force in 2016, pharmaceutical manufacturers have had to make physical modifications to their packaging lines to enable the production of serialised packs. These included a raft of FMD-ready innovations, mainly in coding and labelling. Examples of new introductions from 2018 include Herma UK's Herma 500 tamper evident labelling system and Mettler Toledo PCE's labelling/verification system.
Looking forward, it is clear that anti-plastic sentiment is gaining momentum. Although brand owners and retailers are exploring greener material types, such as biodegradable films, it is currently business as usual for packaging machinery manufacturers.
"Everyone's talking plant-based materials but, at the moment, they aren't consistent enough and are far more expensive than conventional plastics," says Brillopak's Jahn. "Lots of trials are going on but nothing has emerged."
In the meantime, concerns around plastic packaging could be having a negative impact on the industry's image. In June 2018, Bosch announced that it was putting its Packaging Technology business up for sale; there is no evidence of any takers, as yet. Talking to BakeryandSnacks in July 2018, Nick Mockett, head of Packaging M&A at Moorgate Capital, suggested that "appetite may be dampened by the current hysteria about plastic".
Bosch Packaging Technology is a sizeable entity, generating revenues in the region of €1.3bn and employing a workforce of 6000 across 15 countries, so developments in this space will be followed with interest by the industry.
PAUL CHAPPLE, TECHNICAL MANAGER, KRONES UK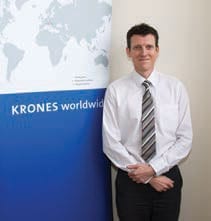 "From the perspective of Krones UK, the beverage packaging market has been buoyant in 2018, with good sustained growth across all sectors including water, soft drinks, milk, beer and spirits. Interest from the market was spread well across our entire portfolio ranging from bottling and packaging, through process, breweries and distilleries and automated warehousing and intra-logistics. We also saw good strong interest in handling of sensitive beverages without preservatives where Krones offers a full range of clean filling / aseptic equipment and other areas such as PET plastic recycling systems. It is interesting to see how people are looking to the future and considering how the integration of IT can streamline their business, improve efficiencies and facilitate new business avenues such as e-commerce."
QUEEN'S AWARD FOR CHESHIRE COMPANY
In 2018, Cheshire tray sealing specialist Proseal was the recipient of a Queen's Award for International Trade, in recognition of its continuous growth over the last six years.
This accolade coincided with the company's 20th anniversary and followed a period of strong sales growth in both its home and export markets, increasing its employee headcount to 438 worldwide.
The company enjoys strong business in mainland European countries such as the Netherlands, Ireland, Germany, and Spain, and has developed new markets in Southeast Asia, China, Turkey, North Africa, South Africa, and South America.