The first man-made plastic was invented in the UK in the 19th century and it remains a key domestic industry, with an annual turnover of around £25.5bn and the third largest employment figures of any manufacturing sector.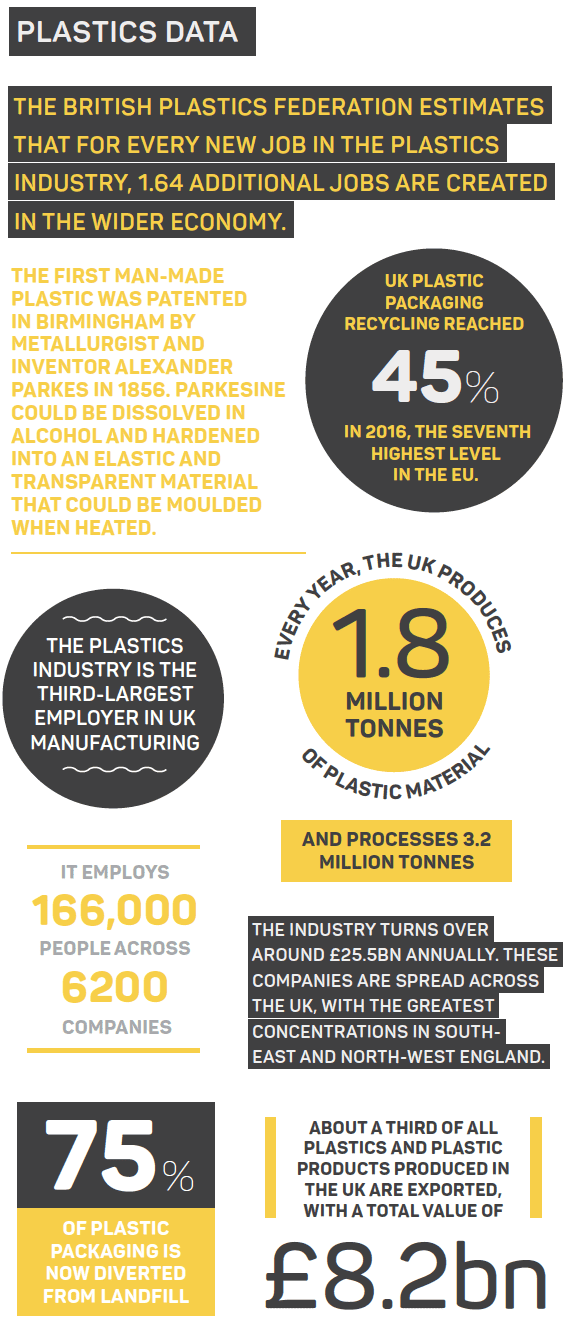 The UK plastics industry today is heavily reliant on imports of raw materials and machinery, primarily from other EU countries, and is a big importer of plastic goods manufactured elsewhere, particularly China. But the domestic industry is still well represented across the whole plastics supply chain, from producers, distributors, equipment, additives and masterbatch through to plastics processors and recyclers.
Philip Law, director general of the British Plastics Federation (BPF), says plastics remain strategically important to the UK because they are so deeply integrated into modern life, with nearly every part of the economy now relying on them to function efficiently including aerospace, automotive, packaging, construction, healthcare, marine, electronics, energy and the military.
More specialised, more advanced
But while the UK market used to be dominated by big chemical companies it is now more dispersed, with a portfolio of often highly specialised businesses.
Engineering plastics is a particular domestic speciality. Representatives of this sub-sector include manufacturer and supplier PAR Group, based in north-west England, which precision engineers, machines, extrudes, casts and fabricates plastics for use in industries such as food and drink, pharmaceutical, water treatment, aerospace and distribution.
Leicester-based Nylacast, which provides cutting-edge engineering plastics and bespoke polymer components for companies including CAT, JCB and Shell, has received various accolades for its engineering and export success.
Law says the UK plastics industry is doing well because its companies tend to have very high standards and a strong desire to be efficient and innovative.
"We have many world-leading companies and technologies," he said. "We know, from the many trade shows the BPF has attended over decades, that there is growing appetite to develop trade links with the UK. We have the building blocks of the raw materials, such as oil and gas, and a varied geology to provide an array of additives. In addition, the UK has a strong academic infrastructure supporting the industry."
Global trade
About a third of all plastics and plastic products produced in the UK are exported with a total value of £8.2bn, making it one of the UK's top ten exports. Lancashire-based What More UK is one of the UK's biggest plastic product producers specialising in household goods. It has regularly been named an 'Export Champion' by the Department for International Trade for its success in overseas exporting – proving that not everything plastic in made in China.
A wonder material – with drawbacks
The prevalence of plastics is down to their unique set of properties. They are light, strong, cheap and mouldable, which cuts production and transport costs and can reduce carbon emissions. They have revolutionised medical hygiene and food preservation.
Despite these success stories the industry has not had a good year in PR terms, since David Attenborough's Blue Planet II series highlighted the growing problem of plastic waste. This goes alongside wider concerns about microplastics, the structure of the domestic recycling system, the industry's dependence on petrochemicals and a growing body of evidence about plastic's chemical harms.
The UK government has recognised some of these issues, making sustainable packaging a key part of its Industrial Strategy. The plastics sector is also keenly aware that it has a reputational problem but is frustrated at the way in which the material itself has been demonised.
Taking steps

The BPF says it has always taken a responsible leadership position on the subject of plastic waste. It was the first plastics industry organisation outside North America to implement Operation Clean Sweep (www.opcleansweep.org) an initiative to prevent the loss of tiny plastic pellets from the manufacturing process into watercourses. In 2017 a greater proportion of the industry signed up to this scheme in the UK than in any other European country.

In the past couple of years it has also launched a marine litter platform, signed up to the UK Plastics Pact (www.wrap.org.uk/content/the-uk-plasticspact) and published Plastics: A Vision for a Circular Economy), which identifies what needs to happen to stop plastic packaging going to landfill by 2030 and to minimise plastic waste entering the sea.
It is in its very nature for the plastics industry to be highly innovative and it has recently put a lot of effort into researching packaging that is easier to recycle. In 2019, eight new research projects supported by the Plastics Research Innovation Fund (www.gov.uk/government/news/reducingplastic-waste-in-the-environment-apply-forfunding) will explore alternatives to fossil fuelbased materials, material lifecycles and how to use technology to reclaim or break down plastics.
Law would like the positive contribution that plastics make to the environment, particularly by lightweighting goods and transport, to be more widely known.
"There is also an opportunity to build upon our overseas trade relations and the favourability with which the UK and its technology is received in overseas markets," he said.
A brighter 2019?
Overall, the industry is optimistic. According to the BPF's latest six-monthly business conditions survey, published in summer 2018, most plastics companies think turnover and domestic sales will rise in the next 12 months and are planning to recruit and to invest in plant and equipment.
However, in common with most of the manufacturing sector, Brexit is causing significant business uncertainty. This predominantly affects companies' ability to attract and attain skilled staff, since a significant proportion are non-UK EU citizens, but also in relation to the EU's complex regulatory regime on chemicals.
The next year will therefore be a key one for the plastics industry, as well as the many businesses and sectors that rely on the products it produces.