SIGNALS AT AMBER
by ANDY PYE
The UK rail industry has been hampered by an endless sequence of reviews of policy, many delayed or refocused by the political landscape, dominated by Brexit issues and political stagnation.
A
s we come to the end of 2019, facing a General Election and an on-going review of the HS2 in prospect. Such uncertainties curtail investment and future planning.
In January 2009, government examined the case for the new highspeed HS2 line between London and the West Midlands. The decision to proceed came in January 2012, with the planned line opening in 2023. The plans were approved by government in November 2016. A new review was set in train in August 2019 by the new Secretary of State for Transport Grant Shapps to provide clear advice on the project's future.

The UK Government has called for diesel-only trains to be phased out by 2040.
Stress-free heat-treated rail from British Steel.
"It is only fitting for the government to celebrate the 10th year anniversary of the project by commissioning a review to determine whether HS2 is a good idea and whether it should be cut back or abandoned!" jibes Ian Brown, Policy Director of Railfuture, a leading UK voluntary organisation campaigning for better rail services for passengers and freight.
The decision was postponed until after the election on 12 December. However, it is reported that the team have now leaked the report conclusion, saying that the HS2 project should go ahead in full, and circulated it widely to stakeholders who have very publicly welcomed it. Brown observes that, although the Department for Transport (DfT) is the project sponsor of HS2, it is the Prime Minister and the Treasury who will decide and there is no evidence that they will automatically follow any recommendation.
More generally, according to the Office of Rail and Road, the future for rail appears bright. Rail passenger journeys in Great Britain in 2019-20 Q1 increased to 439 million (2.4% rise compared to 2018-19 Q1). And it is technology that leads the future of the rail industry.
Green transportation
Backed by new regulations and environmental groups, the global trend towards greener forms of transport is affecting the rail industry. In response to a Government call for the use of diesel-only trains to be eradicated by 2040, the Rail Safety and Standards Board (RSSB) has set up a Decarbonisation Task Force.
"Freight is very challenging to decarbonise because you need a lot of power. Currently, only diesel engines and overhead electrification can provide those levels of power within the confines of our Victorian infrastructure," says Professor Paul Allen, Assistant Director of the University of Huddersfield's Institute of Railway Research.
The Digital Displacement for Non-Passenger Rail project features a consortium of Artemis Intelligent Power, the University of Huddersfield and Direct Rail Services, with support from Freightliner and Voith Turbo. It is using Artemis' digital displacement technology to develop a more efficient alternative to conventional hydraulic pumps for providing traction and auxiliary power for freight locomotives, shunters and on-track plant.
"A conventional hydraulic pump that operates constantly is inefficient. But with an electronic control, you can effectively switch idle cylinders on and off," says Allen.

Digitisation
Cisco suggests that around $30 billion will be spent in the next 12 years on IoT projects in the rail sector. Potential applications range from advanced passenger information systems to real-time incident alarms and better manufacturing and maintenance procedures. Train travellers now want to surf or use the compartment as a mobile workstation. Operators are investing in robust Wi-Fi access that is bandwidth-friendly and stable throughout the trip. With Ethernet through Single Twisted Pair (SPE), trains can be equipped with future-ready Gigabit Ethernet.
Industry 4.0: the "Railway Internet of Things", like its industrial counterpart, is opening up opportunities in vital areas: services and information for passengers and more effective manufacturing and predictive maintenance.
Cyber Security: with increased connectivity comes increased vulnerability, as previously closed systems are now open to the public Internet. The rail industry is becoming proactive in taking steps to protect their networks. All the cyber security techniques applied in the factory are relevant — separating zones with firewalls, monitoring network activity and updating firmware and patches on all assets, keeping up to the minute on known vulnerabilities.
Virtual Reality: the production of expensive advance models can be greatly improved by using virtual test runs. Augmented and Virtual Reality (AR/VR) are enhancing training sessions for rail personnel and can assist remote asset management routines, reducing the dependency on needing experts available on the ground physical.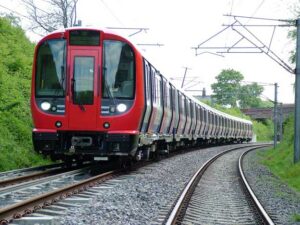 LOOKING FORWARD
Network Rail will invest £245m in R&D over the next budgeting period, Control Period 6 (CP6), which runs from 2019-24.
HS2 report expected to confirm that the project will go ahead in full.
Conversely, Crossrail will not open in 2020 and its cost has increased again by up to £650 million. The bill for the scheme could reach £18.25 billion, an increase of between £400 million and £650 million on the latest funding commitment made in December 2018.
A Brexit effect likely in the rail industry, from a paucity of skills required to deliver the major infrastructure programmes like HS2 and Crossrail; increased costs for manufacturers having customers paying in Euros; and some reduction in demand for travel from more stringent immigration controls.
$30 billion to be spent in the next 12 years on IoT projects in the rail sector, to bring about radical improvements in services and information for passengers and in manufacturing techniques and predictive maintenance. • Progressive eradication of diesel engines, with freight being the major challenge.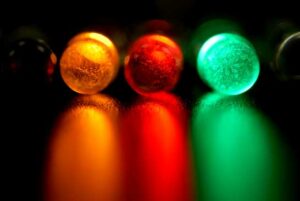 UK LEDS LAST MORE THAN 100,000 HOURS
The LED bulkhead lamps on the buffers at the end of railway lines are designed and manufactured by Marl in Ulverston in Cumbria, and known for outstanding reliability, lasting a minimum of 100,000 hours, equating to almost 11.5 years of continuous use.
Now Marl is to expand into other rail networks across Europe, Australia and Asia. The white lights are also ideal for lighting walkways, paths and subways around towns and cities. Red, orange and green illuminators can also be used in big warehouses for marking out different stages of a distribution process.
"The 084 series has been an unsung hero of the UK rail network for years," said Graham Round, Marl's Sales & Marketing Manager. "When it comes to construction sites, for example, the bulkheads can be removed when the project is finished and moved and reused on another site, as they will last for years."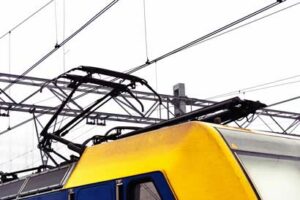 A PANTOGRAPH TEST RIG
There is a vital need for research that will improve the technology, especially the pantographs that collect current from overhead catenary wires. When they fail, schedules are disrupted and there can be safety risks.
Now, the University of Huddersfield's Institute of Railway Research (IRR) is to be the site for a world-class, £3.5 million pantograph testing rig, expected to be commissioned in 2020.
Specific to the UK, which was an early adopter of electrification, is the low level of investment in system renewal. Also, the large number of Victorian tunnels with limited levels of clearance pose problems.
"We aim to improve pantograph and catenary technologies, to get better current collection," said João Pombo, Professor of Railway Technology.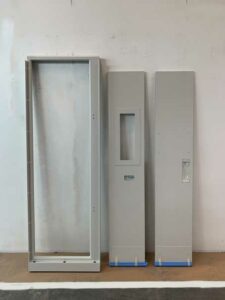 TRB MANUFACTURING DOORS FOR WEST MIDLANDS RAILWAY PROJECT
TRB Lightweight Structures is working with CAF to design and produce gangway doors for 17 new trains for West Midlands Railway. The doors section the cab off from passengers in driving mode, or are used to create additional corridor space, allowing passengers to move between coupled sections. The lightweight doors have an aluminium external skin with a honeycomb core.
"The 136 doors – four per cab and overall eight per train – have been designed to meet GM/RT 2100 Rev 5 regulations, and will be impact tested to BS EN15152 standards to meet the stringent safety requirements of the UK rail sector.," said Lyndon Newman, Lead Engineer of Rail at TRB."