2019 has been a challenging year for UK textile manufacturing, but the outlook is promising, provided that some key issues can be addressed.
BY KATE HILLS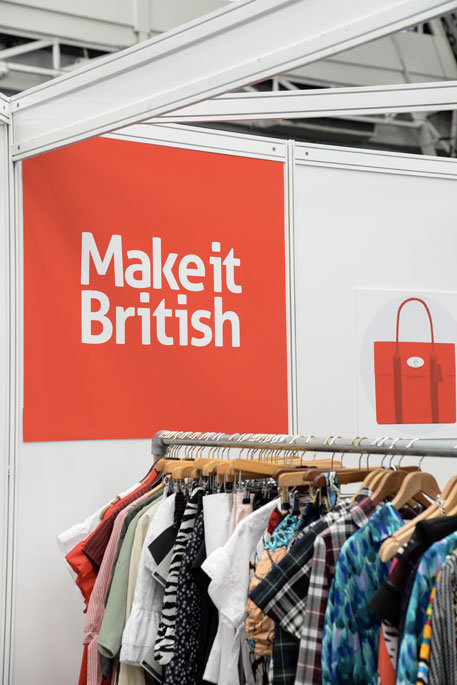 Following a significant decline in textile manufacturing in the UK since the late 1980s, the sector has experienced a period of slow but steady growth over the last decade. This has been driven by a number of factors, including the International appeal of a 'made in UK' label and the lower carbon footprint of sourcing locally, as well as the more rapid delivery of product required to fulfil the demand for 'fast fashion'. The latest UK Fashion & Textile Association figures show that the value of UK fashion and textile exports reached almost £10bn, representing an increase of 66% in a decade.
But despite the continued growth, 2019 has been a difficult year for many UK textile manufacturers, caused by the uncertainty surrounding Brexit, the continuing closure of retailers on the High Street, and the ongoing issue of the lack of skilled staff. This combination of factors has caused many manufacturers to be cautious about investing too heavily or taking unnecessary riskvs, and has seen some closing all UK manufacturing operations altogether.
Skills shortages: sewing and reaping 
By far the biggest challenge that is facing UK textile manufacturing looking into the next decade is the lack of skilled talent in the UK, particularly in the sewing and garment construction side of the sector. Many manufacturers report that local staff are difficult to attract into an industry that is still seen by many as on the decline and apprenticeship schemes are not producing the required amount of new talent quickly enough to keep up with demand.
At the end of 2019 The All-Party Parliamentary Group (APPG) for Textiles and Fashion surveyed manufacturers across the UK and found that more than half employed EEA citizens for machinist roles, and the UK's exit from the EU would pose significant risk to the growth of the sector because manufacturers would be unable to meet the current demand for staffing. The APPG has proposed to add several textile worker roles, including garment machinist and garment technologist, onto the Shortage Occupation List to facilitate employment after Brexit, in order to stem the loss of workers that has been happening since the referendum.
To address the issue of skilled staff within the industry, training initiatives are being put in place to address specific gaps in knowledge, including a tailoring academy based at Fashion Enter factory in North London and a centre for artisan accessory and leather makers in Kent. The UK Fashion and Textiles Association, which is the sector skills body for the UK, is working with manufacturers to develop new vocational and academic routes into the industry.
Manufacturers are also looking to use augmented reality to train new employees and cut down time-consuming and labour-intensive training which can take a minimum of six to eight months. Yarn spinners Laxtons are working on a project using AR techniques to develop immersive training packages for its staff, allowing them to gain virtual 'hands-on' experience of complex production processes.
Sustainability 
2019 was the year that sustainability came to the fore in textiles. The Environmental Audit Committee launched an enquiry into the sustainability of the UK fashion industry, which included concern over pay at UK garment factories in Leicester. The result of the enquiry was the Fixing Fashion Report, which was presented to Government in February 2019, but the recommendations were later rejected. Despite this, many brands and retailers are now choosing to make textiles locally because of the much lower carbon footprint that it affords.
Whatever the future decade holds for the UK textile industry, one thing for sure is that sustainability will be high on the agenda. Manufacturers that do not find ways to lower their carbon footprint, create less waste and provide ethical working conditions for its staff, will fall by the wayside over the coming years. On the other side of the coin, those that do will continue to be in much demand and will help to see the UK textile industry thrive again.
The Make it British Exhibition 2019 was held at the Business Design Centre in Islington, North London, 29 & 30 May 2019. Thousands of British-based manufacturers, retailers, designers and academics gathered to showcase the creativity and diversity of UK manufacturing and to share their stories. The next event is scheduled for 17 & 18 March 2020, at the same venue.
FOR FURTHER INFORMATION AND TICKETS VISIT HTTPS://MAKEITBRITISHLIVE.COM/  
NEWS IN BRIEF 
Title 
A research project by clothing manufacturer David Nieper, in conjunction with the University of Nottingham, found that carbon emissions are 47% lower for clothes manufactured in Britain, rather than overseas. 
Dr Marten's 
Footwear manufacturer Dr Marten's plans to invest £2m in its Northampton factory, doubling UK production to 165,000 pairs of shoes a year. 
Title 
Sustainability within textile manufacturing is a key area of focus for Future Fashion Factory, a £5.4 million Research and Development partnership exploring and developing new digital and advanced textile technologies, particularly those that reduce waste in the design and manufacturing process. 
Abraham Moon & Son 
Leeds-based textile firm Abraham Moon & Son, is receiving funding from Future Fashion Factory which in developing a colour measurement system to ensure cloth consistently maintains specified colour throughout the production process, thereby reducing waste. 
AW Hainsworth 
Weaver AW Hainsworth has introduced a new designer-led short production run service for bespoke fabrics, allowing brands to manufacture cloth in smaller quantities.