BRIGGS AUTOMOTIVE COMPANY
Briggs Automotive Company (BAC) is the first manufacturer in the world to use graphene in the construction of a road car, in its latest model, the BAC Mono R.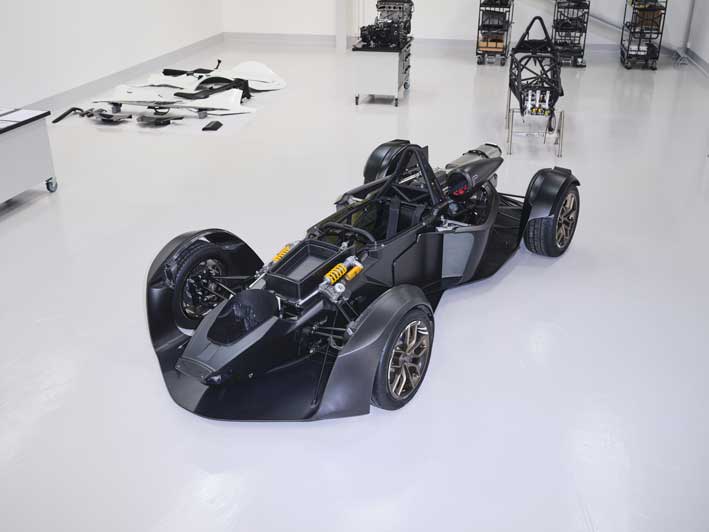 U nveiled at the 2019 Goodwood Festival of Speed, the Mono R takes BAC's uncompromising approach to car design a step further than its predecessors. It is a single seater, with no room for anything other than the driver and the engine, has a power to weight ratio of 612bhp/tonne and is as close as you can get to a Formula One car on the road. The limited production run of 30 vehicles was sold out before production even started.
Most car manufacturers' focus is on volume – the space to carry the driver, passenger (or passengers), and cargo, whether it be just the weekend's shopping or golf bags, ski equipment and enough luggage for a family holiday. BAC's focus is on surfaces and performance, to the exclusion of all else. Its body is aerodynamically styled to optimise low-drag downforce and its chassis, from tubular steel frame to the finished graphene-reinforced carbon fibre tub, plus suspension and drivetrain, is focuses on maximising mechanical grip. It is super-light and gets its outstanding performance from a fairly modest, four cylinder 2.5ltr engine because its weight is so low, at just 555kg.
"A bigger engine needs a bigger gearbox, bigger brakes and a bigger chassis. It becomes a weight spiral," says Stuart Newman. "In order to get to 540kg, you have to think in those ways."
Unique but connected 
Despite being a limited run, the Mono has a direct connection with its predecessors. it builds on the experiences of earlier models and incorporates the lessons learned and insights gained along the way. BAC uses Autodesk CFD (computational fluid dynamics) software to develop elements of the car, along with PLM 360, Fusion Lifecycle and Moldflow in its suite of design applications.
Each Mono R is unique. Sometimes in obvious ways, such as paint finish, but also in less visible ways, such as gear ratios optimised for Silverstone race track, or the positioning of seat and pedals to suit the owner's build and preferences.
BAC says that personalisation is now a viable option in auto manufacturing, although it is a more complicated than, for example, customised footwear, which has to cope with only five or six design elements being subject to change. Company founder and Director of Product Development, Neill Briggs, observed that personalisation for cars will involve interior trim, exterior parts, power upgrades, brake upgrades and more; paint is the simplest thing.
BAC's designers and engineers already use agile technologies to improve the Mono design with every car; "Batches of One" are a reality and continuous improvement is expected.
World's first 
"The BAC Mono R is the first car in the world to use graphene in our carbon fibre construction in every single panel," said Stuart Newman, Press & Communications Office for BAC. "The Mono R is at the forefront of a lot of things and the graphene is actually a lot better than anything we have ever used."
Making a car is not a solitary activity. The North-West of England has an established automotive supply chain but it is also home to a number of organisations engaged in innovative activities. Graphene itself was invented at Manchester University, which remains a hub for advanced development. Bolton University has built an Unmanned Aerial Vehicle (UAV) that has a stressed skin made of graphene. Fusion Lifecycle is located on the Cloud, so authorised personnel have access to it from anywhere, at any time. The data, experience and information that it holds has been invaluable in bringing the Mono R to reality. BAC is happy to acknowledge that its achievements are based on co-operation.
"It has taken endless hours of research and testing and the guys in the supply chain have been quite genius," said Newman. "We first achieved proof of concept in 2016 and demonstrated that using graphene was manageable and doable, and it's now improving every day." What the future will hold, in terms of tooling and usage of advanced materials and shared concepts, will unfold in time. If the BAC Mono R is an example, it will arrive at high speed and perfectly balanced.
"The Mono builds on the experiences of earlier models. BAC uses Autodesk CFD (computational fluid dynamics) software to develop elements of the car, along with PLM 360 an Fusion Lifecycle to incorporate lessons learned and insights gained along the way."