COLIN ELKINS – GLOBAL INDUSTRY DIRECTOR, MANUFACTURING
Colin is IFS's manufacturing specialist, with over 20 years' experience in ERP software solutions for the sector. He is a key member of the IFS Product Directions Board and plays an instrumental role in the decisions regarding the IFS product strategy. IFS develops and delivers enterprise software for customers around the world who manufacture and distribute goods, build and maintain assets, and manage service-focused operations.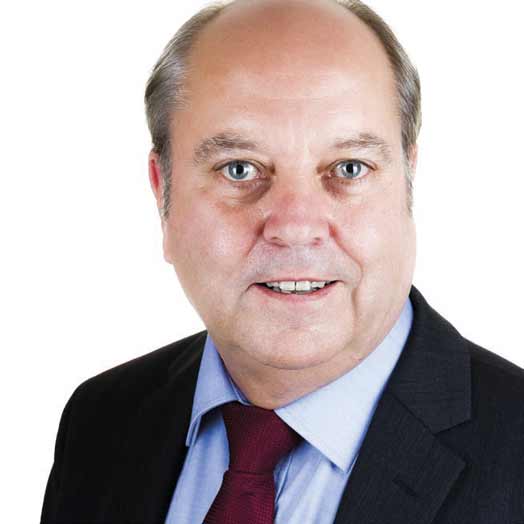 Technology is driving the manufacturing landscape today. A day doesn't go by without a new angle on digital transformation, robotics, AI, AR, blockchain or IOT being reported or discussed. We are seeing a convergence of technology like never before, connectivity of data and machines creating new and exciting opportunities for the agile manufacturer. Who would have thought that ERP software could remotely orchestrate the activities of robots? Service engineers could be sent to change batteries and empty small remote devices like rodent traps only when required rather than wasted routine service calls? Engineers could be shown how to repair equipment they have never seen before using augmented reality?
Everything in manufacturing must happen faster and differently today, whether that's new products to market, or a faster response to customer requests—technologies like 5G are going to replace the legacy infrastructure in our homes and factories today.
But it's not just technology that's changing, it's also about businesses changing their mindset on how they go to market.
New ways of doing business are developing, business models are changing with servitization, 'coopetition' and 'frenemies' taking centre stage. Who would have thought one year ago that people like Philips would stop selling lightbulbs and start selling light and that Apple, Google and Amazon would join forces to create a single technology standard aimed at smart home products? And lastly, it's now about the customer, being customer centric, getting closer to understanding their needs and locking them into your brand with a B2B2C strategy. The customer today is also more demanding, wanting proof of sustainability and interrogating your Corporate Social Responsibility before investing or purchasing your products.
Who would have thought that CEOs in 5 years would have changed their opinions from 5% of them to 53% of them stating that investing in sustainability is needed for growth, and who could have imagined that we were at a point when the 1862 (celluloid) miracle of plastic would be being questioned and that we would not only consider but actually begin banning single use plastics?
" IT'S NOT JUST TECHNOLOGY THAT'S CHANGING, IT'S ALSO ABOUT BUSINESSES CHANGING THEIR MINDSET ON HOW THEY GO TO MARKET."
I am pleased that IFS is supporting the 2020 Manufacturing Review and also to be able to share some of the predictions within the market that me and my fellow industry directors have for the year ahead.
Please reach out via email: [email protected] if you want to discuss how we could help your business.