MACH 2020 promises the perfect showcase for manufacturing technology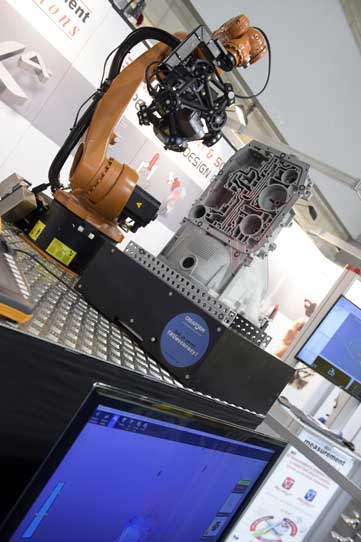 MACH is the longest-running manufacturing and engineering exhibition in the UK, showcasing the largest variety of manufacturing technology solutions in the country, all under one roof. Taking place at the NEC in Birmingham between 20th – 24th April, and with 95% of exhibition space now sold, MACH 2020 is set to be an unmissable event for the UK manufacturing and engineering community and one of the best exhibitions in the event's long history.
It will offer offers major benefits to both exhibitors and visitors alike; not least, in the sheer scope of the event. Mills CNC has been a frequent exhibitor at the show and is returning in 2020 because MACH offers it the perfect platform on which to showcase its products and delivers on customer expectations.
"MACH is the UK's largest manufacturing technology exhibition and it allows us to have a large stand where we can display our full range of machines," said Tony Dale, Technical Director, Mills CNC. "We view it as an essential part of a larger, two-year promotional strategy.
"You can read all the brochures you like but there's no substitute to seeing a live demonstration. Exhibiting at MACH allows us to demonstrate all our machines; customers can see them in action and gauge them against competing products."
Sponsorship 
The exhibition's organisers, the Manufacturing Technologies Association (MTA), were able to announce in March that Lloyds Bank had agreed to be the headline sponsor for MACH, for the fifth consecutive time. The Bank has recently reaffirmed its support for manufacturing by increasing its lending to the sector. Having originally pledged in excess of £6 billion between 2013 and 2018, it has pledged a further £1 billion per year of new lending, through to the end of 2020.
James Selka DL, CEO of the MTA said: "With Lloyds Bank's pledge to lend a further £1 billion per year to the UK manufacturing sector until 2020 and the expansion of the Annual Investment Allowance from £200,000 to £1,000,000, MACH 2020 will be the perfect platform to stimulate investment.
"A lot of changes have taken place within the manufacturing technologies sector during one of the most turbulent political and economic periods in UK history. It is remarkable for one institution to remain loyal to an event and we are very grateful to the bank for its unwavering support."
"It is integral to the success of MACH that our exhibitors and visitors can have proper access to finance, from a bank that understands manufacturers' needs."
Tooling Technologies 
Constant improvements in tooling technology continued to push the boundaries of machining productivity and quality during 2019.
MACH 2020 will be the perfect platform on which to showcase these developments. The event will offer visitors an in-depth look at the work being pioneered by the likes of leading tooling manufacturers such as Ceratizit, Guhring and Horn.
Cobots 
The application of robots and automation in manufacturing will continue to shape the sector in 2020 and beyond as Industry 4.0's impact continues to grow, offering major opportunities for even the smallest of companies.
Many SMEs believe that traditional robots are unsuitable for them; many staff simply lack the skills to operate them. Installation can be costly and the initial investment can be hard to justify if volumes are relatively small.
However, advances in robot technology mean that machines are becoming more affordable and many companies are keen to explore the benefits of using automated processes to bridge the productivity gap and overcome the difficulty of finding skilled labour.
Supply Chains 
With the UK's future trading relationship with the EU still unclear, British OEMs and higher tier manufacturers are looking to strengthen ties with local suppliers, many of which are, in turn, looking to build stronger bonds with UK-based customers.
Many SMEs have taken the decision to reshore production. By bringing everything in-house, companies can more effectively regulate batch quality and dramatically decrease lead times, a process which could take up to six months in places like China.
The advantages of such a strategy are many, especially as producing goods in China and other emerging economies is no longer as viable as it once was, due to rising labour costs. The UK Supply Chain Zone at MACH 2020 will be an ideal opportunity for manufacturers and suppliers, exhibitors and visitors to build new relationships and to network with industry experts.
Digitalisation will also be a key theme of MACH 2020 and it is an area with which MACH organiser MTA is very familiar, having been a key participant in the Made Smarter Industrial Strategy Review. Manufacturing SMEs consistently recognise that MACH is the place where they can access the innovative manufacturing technology vital for a digitally integrated, productive UK supply chain.
Additive Manufacturing 
The enhanced role of additive manufacturing is recognised at MACH 2020. No longer just for prototyping, 3D printing is now a production tool in its own right. The use of new materials, new applications, improved processes and the production benefits offered by additive manufacturing will all be key themes at the show.
Connecting Manufacturing 
Industry 4.0 is about the importance of creating a truly connected manufacturing environment and offers game-changing possibilities for manufacturers. As such, connectivity will once again be one of the key themes for MACH 2020.
Link to MTA's MACH exhibition map page: https://www.machexhibition.com/why-exhibit/2020-floor-plans#/
The event will give visitors the chance to evaluate these technologies and better understand the potential for their businesses. For information on this and more, visit www. machexhibition.com