NOW. NEXT. BEYOND: What the Factory of the Future has in Store
Compare factories of 20 years ago to those of today and in most cases they won't look too dissimilar. However, alongside increased cost pressures and heightened quality standards, consumers now expect customised products, fast delivery, greater flexibility and shorter lead times. As a result, efficient working practices are more important than ever – and factories are having to evolve to accomodate this.
With some six billion objects now IoT-connected, we're already seeing manufacturers taking significant steps towards a digital future. But for some, taking the leap into the digital age isn't straightforward, with the benefits of Industry 4.0 and the process of implementation not fully understood.
To understand where the benefits of digitalisation lie, Bosch Rexroth developed its own Factory of the Future, demonstrating every possibility and exploring how manufacturers can implement them step-by-step for maximum impact.
Digitising your value stream
In the Factory of the Future, all hardware modules and functions are represented digitally in real-time. Sophisticated software solutions collect, transfer and process data to analyse, simulate and improve all processes. Putting sensors on key pieces of machinery to provide real-time insights into equipment health and making use of the Internet of Things to collect data, streamline operations and improve efficiency are just some of the benefits.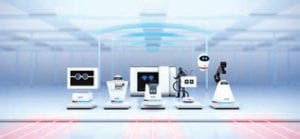 Distributed intelligence manifests itself in all technologies – from cabinet free drives which reduce cabling; low energy, intelligent hydraulic power units; to assembly workstations which provide employees with personalised work instructions.
Maximising your flexibility
Smart factories will make it possible to (re) configure production lines and facilities to fast changing requirements. Taking connected hydraulic systems as an example – sensors can be added to horizontally and vertically networked machine architectures. By managing functions such as position, velocity, distance/force in real-time via the software, users can operate more efficiently when producing small batches and reduces the retooling work for new products.
 The increasing use of wireless technology has the potential to further improve flexibility. Instead of power cables, which tie a machine to a specific place in the factory floor, machines will be powered by inductive charging, with the added benefit of 5G connectivity as a faster, more stable means of data transfer.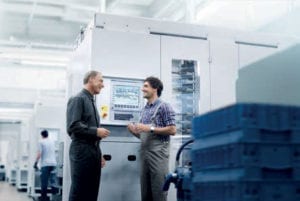 This functionality simplifies conversion to new processes, making factories highly flexible. Production configures itself independently in-line with the product to be manufactured. Communication between machines and systems is mainly wireless. Production layouts are optimised and operating data is captured and analysed, producing real-time data which drives continuous improvement and virtually eliminates machine downtime.
Stepping into the future
The notion that a process facility is too large or too old to move towards digitisation is a common one. Whether a facility chooses to take a granular approach to getting connected, or prefers the idea of a complete digital overhaul, it is important to remember that digital technologies are highly scalable – making them relevant to any business, of any size, at any stage of the process. In fact, Industry 4.0 presents a host of opportunities for manufacturers to incrementally change how they do things
To discover more about the evolution of smart factories, explore Bosch Rexroth's Factory of the Future at: https://www.boschrexroth.com/en/ gb/trends-and-topics/factory-of-the-future/fotf