HIGHER GOVERNMENT SPENDING AND SHORT-TERM TAX CUTS ANNOUNCED IN THE BUDGET ARE EXPECTED TO BOOST GROWTH IN 2019.
UK Macroeconomic Factors
The Bank of England (BoE) raised its policy rate to 0.75% in August 2018. A gradual tightening cycle is expected to continue, taking the rate to 2.5% by end-2023. Oil prices are expected to increase in 2019, due to the increase in inflation over the past two years.
In 2019, foreign exchange markets will remain sensitive to Brexit, contributing to significant volatility in the Pound. However, it is expected that the pound will lose value against the Euro thereafter and in 2020, partly reflecting the difficulty in finalising Brexit negotiations but also owing to tighter monetary policy in the Eurozone.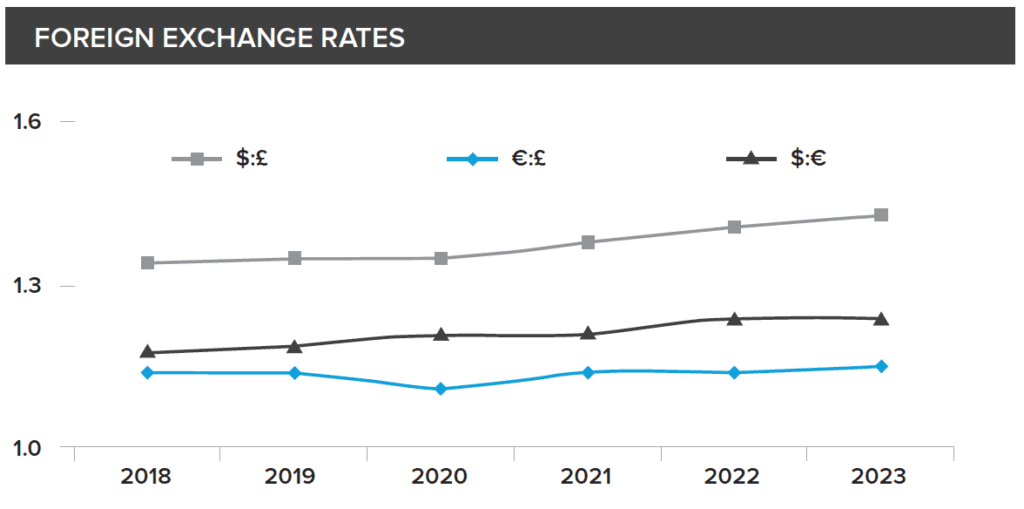 KEY POINTS
World GDP is expected to have grown 3.0% in 2018; the rate is expected to decline to 2.7% in 2019. 
UK GDP growth rate is expected to have grown by 1.4% in 2018, compared to 1.7% in the previous year. Economic growth is expected to stabilise in 2019 before recovering gradually to an average of 1.7% in 2020-23, as Brexit-related uncertainty recedes
According to the August Inflation Report, the Bank of England sees inflation dipping to 2.3% in Q4/2018 and 2.2% in Q4/2019. FocusEconomics Consensus Forecast panelists expect inflation to average 2.1% in 2019 and 2.0% in 2020.
HIGHLIGHTS OF THE MANUFACTURING SECTOR
KEY GROWTH DRIVERS
IoT grows in importance:
Manufacturers are increasingly leveraging the Internet of Things (IoT), which entails the interconnection of unique devices within an existing internet infrastructure
In this fiercely competitive market, IoT-enabled smart manufacturing provides full visibility of assets, processes, resources, and products. This, in turn, supports streamlined business operations, optimised productivity and improved ROI. The key to success is connecting equipment, integrating diverse industrial data, and securing industrial systems for the entire lifespan of equipment
Shifting focus from B2B to B2B2C:
 Many manufacturers who traditionally had a B2B business model are shifting to a B2B2C (business-to-business-to-consumer) model due to the many benefits selling directly to consumers provides including increased profit, brand control and price control
In order to effectively sell direct to consumers, manufacturers need to select a platform for their e-commerce operations that supports both B2B and B2C sales platforms. It will have to deliver on order fulfilment and tracking, secure payments, customer service management, and sales and marketing activity tracking while providing a 360° view of all your B2B and B2C customer interactions. RECENT DEVELOPMENTS
Industry 4.0 "comes of age".
As more and more 'smart' devices are integrated into organisations in 2018, Industry 4.0 will continue to dominate manufacturing, offering valuable benefits – including predictive maintenance of machinery and increased levels of automation – to help manufacturers optimise their operations.
AI-driven future.
In terms of improving customer service and support, AI is allowing business to provide always-on customer service that isn't constrained by time zones or holidays. It is also quickly scalable and enables an unparalleled level of personalisation throughout the customer journey.
POLICIES AFFECTING THE INDUSTRY
Brexit.
The biggest challenge that manufacturers will face in a post-Brexit world will be in supply chains, labour skills and movement, technology and innovation. The potential impact of Brexit could be hugely disruptive to manufacturers' business models and trading as well as their regulatory and business environment.
Shaping the innovation landscape.
With new technology offering increased efficiency and productivity on the shop floor, innovation is a vital topic for manufacturers. It is primarily through R&D that EU funding will affect the manufacturing sector. Manufacturing alone accounted for 67% of UK R&D expenditure in 2014 and therefore is highly exposed to changes to the funding schemes landscape.
Addressing the skills crisis.
Failure to engage and inspire the new generation is set to exacerbate skills pressure on manufacturers, hitting growth and productivity. Almost one in four businesses are finding it hard to recruit skilled workers, and one-fifth have problems finding experienced staff. Larger businesses are under particular pressure; 46.0% said skills shortages are putting strain on existing workforces. Currently, the focus needs to be on lobbying to ensure that the forthcoming Apprenticeship Levy works for the industry, as well as supporting the next generation of leaders.
RECENT MERGERS AND ACQUISITIONS
Heidelberg is to acquire rival manufacturer MBO Group in a bid to further expand its presence in the digital postpress market
Watkiss Automation has been acquired by rival manufacturer Plockmatic Group, which also owns Morgana
Kolbus Group has acquired UK kit manufacturer Autobox Machinery, as it continues its move into packaging.
Sources: Country report, EIU-November 2018; Focus Economics; Manufacturing Global; The Manufacturer; CBI; Websearch