It is six years since George Osborne, then Chancellor, set a target for British companies to double exports to £1 trillion by 2020. In 2018, trade secretary Liam Fox shelved that ambitious goal, admitting it was "unlikely to be achievable". With Brexit looming – and with it the need for businesses to strike out further afield – many UK companies remain reluctant to explore international trade.
A recent study by the Institute of Chartered Accountants in England and Wales, in the context of the former Chancellor's announcement, concluded that there are "not many new exporters", and that the European Union remains by far the most popular export destination. Only seven per cent of small businesses commenced exports over the previous two years, the group found, and it warned there was a "downward trend" in the number of exporters planning to enter new markets. Only one in five said they are investigating new territories, down from one in three in 2014. Most said they expect to continue exporting to the "same countries", the institute said. Only 1 per cent of companies that don't already export said they plan to begin in the next year.
Russell Grazier, head of export credit and trade and working capital at Barclays, says businesses need to take a much more strategic approach to building international trade. That work should begin with evaluating how things are going at home, he says.
"Many organisations miss the opportunity to evaluate their own position within their existing market, as well as their core competencies and financial capabilities, before committing to develop new products or target different international territories. When this is done businesses can establish robust local business models, providing the foundations to safely increase trade at home and in their chosen international markets."
Here, we speak to six British companies – selling everything from lasers to tyres, shoes and motorbikes – who have made a big push for overseas trade, to hear about their export success stories.
Norton Motorcycles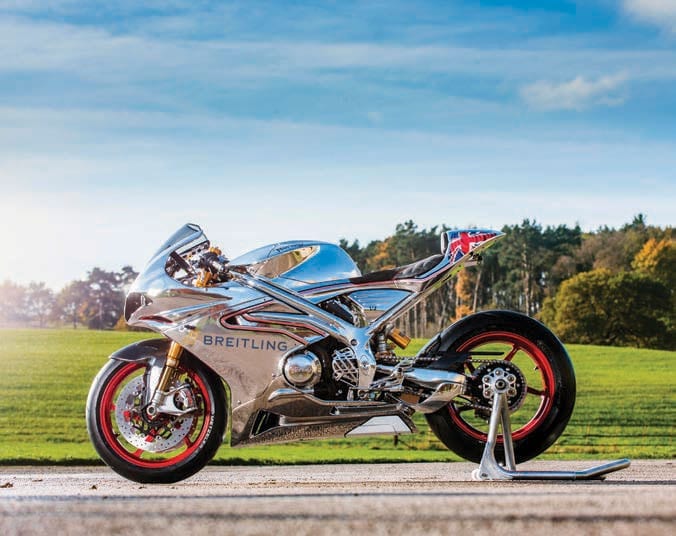 Stuart Garner decided to rescue the famous Norton Motorcycles marque in 2008, acquiring it from an American investment banker. The company, which traces its roots back to 1898, entered a downward spiral in the 1960s as it struggled to compete with Japanese competition.
 Mr Garner has brought Norton back up to speed thanks to a passion – some might say obsession – with British manufacturing and a focus on exports. The bikes are made in a purpose-built 45,000 sq ft factory near Derby, and the majority of the components are sourced from the UK. He even helped set up a manufacturing programme to attract apprentices to the industry, in the hope that more motorbikes can be made in Britain.
About 80 per cent of its revenues come from overseas, including 20 per cent from the United States and the same proportion from the European Union. Australia and Japan are also lucrative markets for Norton. Mr Garner says the government can provide helpful advice and financial support for exporters. His advice to manufacturers looking to grow their export sales is based on personal experience.
"Communication and knowing your market from product [to] price, regulation and competition is key," he said. "Visit the territory and spend time with your customer, to understand what they need and how your product is sold, distributed and used in the territory. Always ask for help if you get stuck with something."
Mr Garner expects joint ventures in India and China to drive significant export growth in 2019. A new bike developed with the help of the government's Advanced Manufacturing Supply Chain Initiative has secured £20 million worth of orders. He adds that the company is currently constructing a further 12,000 sq ft production facility and is on a large recruitment drive.
British Band Instrument Company
After a 30-year career in export sales, Alun Hughes founded the British Band Instrument Company to focus on supplying musical instruments and associated products to Government departments and military bands. He has continued banging the drum for international trade ever since he established his Edgware-based musical instrument supplier, over a decade ago.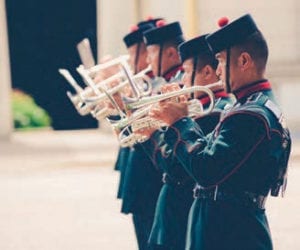 The business started out by selling to officials in the Middle East and Africa. Since then, Mr Hughes says the company has sold its wares to governments in about 70 countries, including Ethiopia, Botswana and Gambia. Selling to difficult-to-access parts of the world is its "unique selling point", he says.
In 2018, the company won its biggest ever contract, to supply 47 regiments of the Indian army with about 1,500 instruments. The deal, which was praised by the trade minister, Baroness Fairhead, was a milestone for a company built upon its export prowess.
The business works with a network of manufacturers, from fine Scottish bagpipe makers to specialist producers of military specification instruments. As well as supplying marching bands, it also provides broader musical instrument distribution and retail, and manufactures under its own Westminster London brand.
Mr Hughes says the company enjoys long standing client relationships established during his extensive periods of overseas travel, but recently social media has played a growing role in establishing and developing overseas client relationships. Whatever the medium, export success is all about the personal touch, he says: "People do business with people."
Envisage
Envisage's modest sites based around Coventry might not be much to look at, but there are plenty of high-octane thrills to be found behind closed doors.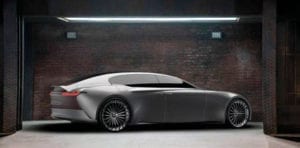 The group's 250 staff are engaged in an intriguing mixture of world class design and manufacturing for the motor industry. Some activities are based on bringing motoring classics back to life, while other clients come to the company to help them plot the industry's future. Envisage makes concept cars and working prototypes for giant car manufacturers' latest models, builds replicas of the bodies of classic cars for revival projects for the likes of Jaguar, and helps electric vehicle makers solve their design and quality problems.
That mixture of skills has helped it win some prestigious international customers, including the world's bestknown electric car makers. Exports made up about 10 per cent of sales in 2018, mostly in the form of engineering services to the car industry. The company expects to double that in 2019, says Bryan Campbell, managing director.
"The United States as a key growth market," he says. "The business is already supporting just over £3 million of sales to the new energy vehicle sector there and expects this is scalable to circa £30 million over five years."
Kat Maconie
Shoe maker Kat Maconie sells millions of pounds worth of her colourful products every year, yet her fastgrowing brand is quite low-profile in London, where she's based. Instead, it's in markets including the United States, Germany, South Korea and the Middle East where Ms Maconie's eponymous business is making its name. Almost all of the £2.7 million that the former recruitment worker expects to have turned over in 2018 came from overseas.
Ms Maconie's shoes are manufactured in China and sold to wholesalers around the world, and the company has more than 200 accounts, including customers in Romania and Panama. In 2019, the company should enjoy the fruits of a deal to supply Kat Maconie-branded cosmetics to South Korea and beyond. The company plans to open a retail store in London, so the UK can finally get a taste of this export success story.
Her advice to other small and medium-sized companies is to investigate markets off the beaten track. She found a sales trip to Bucharest, for example, to be much more profitable than many of her trips to China, where she warns it can be "so difficult" for smaller companies to get off the ground.
Graeme Malcolm, M Squared
Glasgow-based M Squared Lasers is run by Graeme Malcolm, a down-toearth Scot, but the products it manufactures are pretty out of this world. The business describes itself as a "quantum technology company on a mission to harness the power of light to change the world".
M Squared began making lasers to help scientists understand the weird world of quantum physics in labs, but it is increasingly engaged by customers hoping to find real-world applications. The lasers have found uses in advanced manufacturing, oil and gas research, space technology and the medical sector; applications have included the world's most accurate clocks and the detection of chemical warfare agents. "Ion drive for a space craft" was how he described the desired application for one of his components on an export certificate.
Indeed, export is big business for M Squared, which is among Britain's fastest growing private companies. When the University of Tokyo performed the first "quantum teleport" of information, for example, the British company played a key role. Dr Malcolm, who has a PhD in solid state lasers, says about 90 per cent of the company's sales come from overseas as M Squared sells "shovels for the quantum goldrush".
Dick Cormack Dmack Tyres
DMack, a Carlisle-based tyre manufacturer, makes about 95 per cent of its turnover from abroad. It has been a long road for founder Dick Cormack, who started the company from home in 2008, using "less than £10,000 of savings" to visit Chinese factories to produce his tyre designs.
DMack Tyres enjoyed sporting success with victory in the WRC Wales Rally GB and commercial success with a contract to supply the World Rally Championship with tyres.
The breakthrough for the company came in 2011, when it won a tender to supply the World Rally Championship with tyres, alongside Michelin. DMack has its own rally team, a major investment for a relatively small company, but Mr Cormack says it "really put the brand on the map against the big players".
He says business suffered somewhat in 2018 due to the "uncertainty of Brexit" but 2019 could be a landmark year; the company is planning to have its own production facility in Italy, so it can reduce its reliance on third party manufacturers. The move is expected to coincide with an expansion into other motorsports.
BRITAIN'S FASTEST-GROWING SME MANUFACTURERS BY EXPORTS SALES
(source: Fast Track SME Export Track 100 2018)
1 – TELENSA
Developer of wireless systems used in streetlights in more than 80 cities.
TWO-YEAR INTERNATIONAL SALES GROWTH: 189%
INTERNATIONAL SALES: £10.3 MILLION
TOTAL SALES: £22.8 MILLION
BASED: CAMBRIDGE
2 – ROCKFORD 
Maker of electrical components used by aerospace and defence companies in the EU and Middle East.
TWO-YEAR INTERNATIONAL SALES GROWTH: 161%
INTERNATIONAL SALES: £6.5 MILLION
TOTAL SALES: £16.1 MILLION
BASED: SUFFOLK
3 – STILTZ LIFTS 
Maker of freestanding lifts, retrofitted into homes in more than 20 countries.
TWO-YEAR INTERNATIONAL SALES GROWTH: 161%
INTERNATIONAL SALES: £6.2 MILLION
TOTAL SALES: £12.4 MILLION
BASED: WEST MIDLANDS
4 – KAMPA 
Maker and wholesaler of camping equipment.
TWO-YEAR INTERNATIONAL SALES GROWTH: 147%
INTERNATIONAL SALES: £6.2 MILLION
TOTAL SALES: £23.3 MILLION
BASED: ESSEX
5 – REVEAL MEDIA
Designer and manufacturer of body cameras worn by police and security services in more than 30 countries.
TWO-YEAR INTERNATIONAL SALES GROWTH: 136%
INTERNATIONAL SALES: £1.6 MILLION
TOTAL SALES: £8.1 MILLION
BASED: SURREY
6 – SYMETRICA 
Makes technology used at ports around the world to detect materials used in dirty bombs.
TWO-YEAR INTERNATIONAL SALES GROWTH: 132%
TOTAL SALES: £10.9 MILLION INTERNATIONAL SALES: £9.7 MILLION
BASED: SOUTHAMPTON
7 – MONTY BOJANGLES 
Chocolate truffle manufacturer whose products are popular in the United States.
TWO-YEAR INTERNATIONAL SALES GROWTH: 117%
TOTAL SALES: £5.2 MILLION INTERNATIONAL SALES: £1.8 MILLION 
BASED: SURREY
8 – NAUGHTONE 
Furniture designer and manufacturer making inroads in Asia.
TWO-YEAR INTERNATIONAL SALES GROWTH: 107%
TOTAL SALES: £15.2
MILLION INTERNATIONAL SALES: £9.2
MILLION BASED: NORTH YORKSHIRE
9 – MINERVA RESEARCH LABS
Beauty products maker which exports to markets including Spain, China, Canada and Qatar .
TWO-YEAR INTERNATIONAL SALES GROWTH: 102%
TOTAL SALES: £8.6 MILLION
INTERNATIONAL SALES: £5.2 MILLION
BASED: LONDON
10 – WELLAND POWER 
Makes diesel generators which power schools, hospitals and police stations in China and Pakistan .
TWO-YEAR INTERNATIONAL
SALES GROWTH: 94.6% TOTAL SALES: £10.1 MILLION
INTERNATIONAL SALES: £17.7 MILLION
BASED: LINCOLNSHIRE