KIM CARR Managing Partner, FBC Manby Bowdler
There is no avoiding the fact that one topic has dominated most aspects of our national life during the last year – and will do so for some years to come.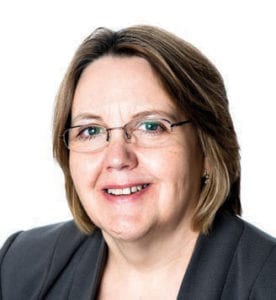 The UK's exit from the EU throws up many questions for businesses and there will be pitfalls for the unprepared. Manufacturers need stability, both in supply chains and in their relationships with customers.
While some firms will have been planning for some time, there is only so much actual preparation that will be fruitful, because the impacts of many aspects of this momentous change have been very unclear.
What is clear is that it is going to be crucial to be ready to react purposefully and with the best possible information to changing demands and circumstances as they reveal themselves.
We've heard loud and clear from our many manufacturing clients that this is now one of their key concerns and, as a result, we have added to our team one of the foremost experts on Brexit whose experience straddles law and politics, as well as the Channel itself.
Increasing our knowledge resources
Peter Wilding has worked in European politics for 25 years, practising as a solicitor specialising in EU law, a lobbyist and as Media and Policy Director for the Conservative Party in the EU. He is also the founder of the Influence Group, which advises UK businesses on European policy.
Now that Peter's knowledge and experience complements the depth of expertise already available to FBC Manby Bowdler clients through our industry leading specialists, we are able to say very clearly to them that we will be their well-informed, trusted advisor through the coming turbulent times around Brexit. We're confident that no-one else will be better equipped to advise business on the legal aspects of the situation.
Expertise recognised
We're delighted too that our expertise more widely has been recognised with top national rankings for many of our team. At the end of 2018 no less than five of our partners have been named as "Leading Individuals" in their respective fields by the independent Legal 500 guide. A further four of our team have been highlighted in the guide as Next Generation up-and-coming candidates aiming for the top spots. Four of our departments were also awarded top-tier rankings and many others were actively recommended for their work.
Additionally, the 2019 Chambers Guide has awarded several of our departments its top ranking and picked out yet more of our partners as among the UK's most outstanding professionals in their fields. We have much to be proud of, but it is at the heart of our ethos that we do not take such plaudits for-granted, we do not stand still and we strive at all times to provide nothing short of stellar service.
The immediate future is likely to be a challenge for all of us but we have taken steps to ensure we can serve our clients in the way they deserve through every aspect of what could be very trying times for the unprepared. If you do not feel the same way about your business, now is the time to start talking to experts. Now is the time to be talking to us.