European Springs & Pressings is one of the world's market leading spring and pressing manufacturers. Based in Cornwall, in London and with a logistics office in Yorkshire, they are set to enhance their position after achieving record results and investment.
by Michael Gibbs
S
ecuring their position as a key international supplier for the automotive and industrial sector, European Springs & Pressings, has invested over £3m in infrastructure in recent months and has multiplied the size of its South West operation to over 4000 square metres, with the purchase of a second factory in Cornwall.
Michael Gibbs, Managing Director of European Springs & Pressings in Cornwall says: "In the last year, turnover in Cornwall has increased by 40% and we've grown from a team of 43 to over 65. Five years ago we relocated to a larger site – we then extended that factory to meet demand and have been rapidly outgrowing our current premises ever since.
Purchasing the second factory in Cornwall has been a really exciting new chapter for everyone in European Springs & Pressings, especially as the Cornwall operations originated from a hut near the beach over 30 years ago."
The additional new factory allows for continual growth across the industrial and automotive product divisions, affording new opportunities for expansion, with the second site specialising in the industrial element of the business, supplying springs across multiple sectors ranging from agriculture to aerospace, robotics to rail to food and marine sectors and everything in between.
In recent months, a new powdercoating line has been installed in a 700 sq. metre extension, a new spring coiling machine purchased (the first of its kind in the UK) a new heat treatment oven acquired and two high-performance spring-end grinding machines complete the recent purchases.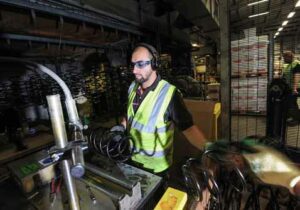 The new equipment, spread across the Cornwall factories, has doubled the grinding capabilities in the company's industrial sector and expanded the automotive sector grinding facilities by 400%. The new heat treatment oven and powder coating line increases automotive production infrastructure by 200%.
Michael Gibbs, adds: "Developing enhanced manufacturing capabilities through investment in high-tech infrastructure and skills training, enables us to sustain manufacturing competitiveness. With a global market place across multiple industries, it is essential that we maintain our reputation for innovation and manufacturing excellence.
Harnessing technology allows us to remain competitive and deliver the highest quality products and our infrastructure and facilities investments are testament to our dedication of being a world-class spring manufacturer. Lesjofors, our parent company, is committed to investing in the UK and has consistently recognised the forwardthinking nature of our management and the unrivalled quality of our production and lean manufacturing processes."
All investments are part of an ongoing improvement initiative, building capabilities in line with demand, providing enhancements to maintain European Springs and Pressings and Lesjofors's, global leading position. Gibbs concludes: "We're accelerating our expertise in direct response to customer demand and our programme of financing is strategic, reflecting a number of years of record growth. Our multi-million investments in new infrastructure, machinery, training and technologies, is a strong indicator of the strength of manufacturing and we're delighted to be further investing in, and supporting, the UK's £192bn manufacturing industry. "
Despite today's political uncertainty, our faith in UK manufacturing is certain."
www.europeansprings.com UK MR