It's not just the automotive sector that is seeing the need for cleaner propulsion technologies to meet the global emission targets. All modes of transport are affected; from commercial and off-highway, to aerospace and motorsport.
I
ntegral Powertrain Ltd (IP) cut its teeth in the CAE world back in 1998 when its current four directors left Cosworth, the famous competition engine company, to set up on their own. Over the subsequent years they transformed themselves into a world leading, record breaking manufacturer of EV drives and control technology and are committed to staying at the forefront of motorsport powertrain development. At the same time they are also taking what they have learnt on the track to lead electric and hybrid powertrain development on the road and in the air.
Innovative and sustainable product development is at the heart of Integral Powertrain and 2018 saw all their hard work pay off, with world records with Volkswagen Motorsport and their ID. R race car, and multiple awards for its ground-breaking powertrain technology including the coveted Dewar Trophy, presented by the Royal Automobile Club. Locally, in 2019 IP was recognised for its tireless work surrounding the innovation and technology of products for a more sustainable future of transportation; winning not only the Technology of the Year award but also scooping the Milton Keynes Business of the Year award.
"The awards have really helped to raise the profile of Integral Powertrain as a hugely successful business in not only the automotive and motorsport sectors, but also in Milton Keynes. With numerous motorsport companies located in the area, the awards received have given us credibility with our customers and demonstrates that we're at the forefront of a revolution in the automotive industry." Says Integral Powertrain's Marketing Manager, Stuart Jaycocks.
investment in People
None of this would have been possible without the wealth of knowledge and experience of the 170+ employees. The company has seen rapid expansion over the past 3 years and to meet the increasing demands it has had to adapt its processes and structure. An undoubted key to its success is a commitment to 'growing its own talent' and 'promoting from within' through the elevation of existing staff into key roles. IP continues to address the UK skills gap by offering a range of apprenticeship, graduate and placement schemes as a way to bring new engineering and commercial skills into the business. It has developed particularly close links with Cranfield University.
"Excellent people come out of Cranfield," says Chief Operating Officer, Alan Cherrington. "Being in the centre of Motorsport Valley, there are significant numbers of highly intelligent and professional people. Attracting them is more difficult because engineers in this area are generally petrol heads. However, the engineering challenges here are amazing and when people understand that it's easier to sell what we do to them."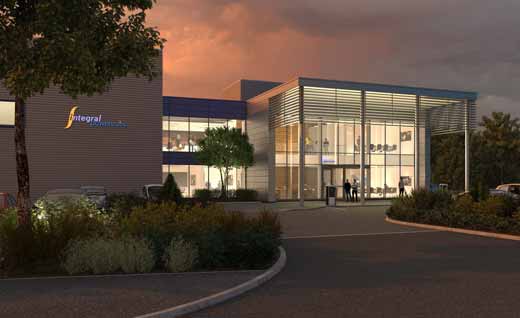 Investment in Facilities
The company operates from four sites across its base in the city of Milton Keynes and is associated with projects such as Aston Martin's Rapide E and Valkyrie vehicles, and the soon to be produced Lotus Evija. An APC funded project will see them develop an electric motorcycle capability with UK manufacturer Triumph Motorcycles. There are many others, which are subject to commercial and client confidentiality.
With an ever-growing client base and moves into the aerospace and marine sectors, expansion has become inevitable for the business. It will move into a state-of-the-art new Technical Centre, currently under construction at Shenley Wood, by Q2 2020.
"It is a massive leap for us but the future is incredibly exciting," Alan admits. "Our sites across Milton Keynes continue to fill up and, while we still have capacity in our existing infrastructure, we felt it was the right time to invest in a new, single facility. I like to keep teams together and bringing the whole business together under one roof is the right way to go." Integral Powertrain is at the leading edge of its industry. The company continues to invest in R&D to maintain technical development and extend the boundaries of what is possible with electric machines.
"We remain committed to growing the business and we believe this latest investment provides a clear signal to our clients, both existing and new, that we are serious about growing our business alongside them." says Alan.
The new facility, which represents an initial £6 million investment, doubles the company's current floor space to 47,000 sq. ft., with potential to expand internally by a further 12,000 sq. ft. Once fully operational, it will house more than 250 employees; a workshop with eight new purpose-built test cells; and low-volume production manufacturing areas.
"IP is currently working on seven projects. That number is predicted to rise to as many as 20, within the next two years. All of that comes with developing processes and systems to enable the growth and improve the efficiency of the company. The new Milton Keynes Technical Centre marks the beginning of an exciting new chapter in Integral Powertrain's growth and it will only serve to support our future expansion plans for the business" Stuart Jaycocks concludes. UK