Projected growth for JJS Manufacturing as sights are set on another record year
Another year, another opportunity to reflect on substantial growth for UK Electronics Manufacturing Services partner JJS Manufacturing.
With their sights still firmly set on the 'Road to £100 Million', JJS Manufacturing remains confident that the coming year will continue to bring significant growth, development and innovation.
Last year, you might remember we spoke with JJS's Director of Marketing, Neil Sharp, who at the time, referred to this as an 'aggressive goal'. But as they head into 2020 it's looking more achievable than ever. We sat down with Sharp again this year to talk about:
growth in the face of uncertainty
new customers
investment in talent and training
further expansion in the Czech Republic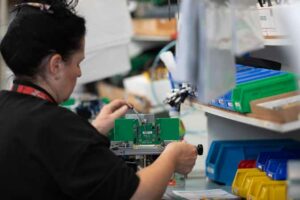 Positivity in the face of uncertainty
Before we go any further, let's address the elephant in the room. Brexit is looming and promises to disrupt the manufacturing industry in one way or another. JJS isn't naive to potential disruptions with the transportation of goods between sites, but they remain confident in their ability to trade with minimal impact to their customers. Here's what Sharp had to say on the matter: "We currently have two facilities in Central Europe so in a 'worse case' scenario, we could trade directly from these if we need to. The biggest challenge we anticipate will be the initial delay in transporting goods to and from our UK site. To help mitigate this risk we have partnered with two major freight forwarders which have preferential border agreements and will call on their services should we require. We have already been building up Brexit 'buffer' stocks for clients so right here, right now, we are relatively calm about the situation and doing what the UK tends to do best – getting on with business even in the face of uncertainty."
And threats of a messy Brexit certainly aren't dulling any plans to stay on track and work towards their ambitious sales goals.
"Based on current commitments from existing customers we are anticipating an 18% increase in turnover over the next 12 months. We are still working towards our goal of achieving £100 Million sales in the next three years and by the end of our next financial year, we should be over halfway there, which will be a fantastic achievement and a testament to the hard work and effort put in by all of the JJS team."
Expanding into new industries
"In addition to existing customer growth, we acquired two new customers during 2019, one of which is an AgTech (agricultural technology) start-up."
The AgTech startup has designed a revolutionary product and JJS believes that by supporting the project during this early phase in a developing industry is essential for growth – both for the customer and the EMS provider themselves. "
This is in direct response to changing customer needs and expectations, and we are as open as ever to new innovations and technology. The AgTech industry is disrupting the food production and farming industry and this product works by using electricity as a scalable and sustainable non-chemical weed killer. With a push to ban chemicals in Europe, businesses are looking for technological solutions to fill the gap which means there is huge market potential for this type of solution. It's a really exciting time for us and the first set of units will be assembled, tested and shipped during Q1 of 2020."
As Sharp puts it, "When our customers grow, we grow with them."
Bolstering the workforce
JJS Manufacturing is notorious for its commitment to its workforce, both existing and upcoming. With established Apprenticeship programmes and Commercial graduate schemes already in place, we spoke about how they intend to further address the manufacturing skills gap and continue to attract new talent.
Taking the skills gap as an opportunity to bolster their internal development theme and foster new talent from local areas Sharp spoke about his personal commitment to the programme: "We've built some strong relationships with local education facilities including Lutterworth College and Loughborough University over several years. "
As a good example, last year, we teamed up with Lutterworth College and hosted our very own local Apprenticeship exhibition to help give students a choice if the University route wasn't right for them. This proved to be very popular, with 40 companies and over 300 students attending the evening. In fact, it proved so popular we have decided to do it all again this year and will be extending the scope to a more general 'Careers Fair'.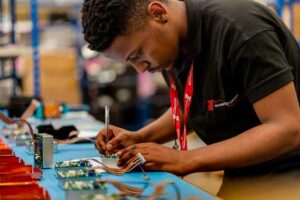 In 2019, we placed 2 new Engineering Apprentices, 3 Commercial Graduates and another Engineering placement student across our UK sites and we are currently developing our scheme for the Czech Republic.
While relevant talent can be hard to come by, JJS is ensuring they remain one step ahead of the curve.
In being proactive, JJS continues to address and overcome the impact of a skills gap and resulting in better growth and talent within the business.
Further expansion in Europe
Sharp concludes by explaining that in order to support several long-term customer contracts, JJS are now finalising plans to open another site in the Czech Republic. "This new site will provide us with an additional 40,000 sq ft to add to our existing 100,000 sq ft footprint, so a significant increase for us. The new unit is conveniently located on the same industrial estate as our other two factories and we hope to have moved in during Spring 2020.
It's safe to say that JJS Manufacturing shows no sign of slowing down or cowering in the face of seemingly indomitable threats like Brexit and talent shortage.
MAIN ACTIVITIES:
Electronics, Electrical and Electro-mechanical Manufacturing
TURNOVER:
£43M
EXPECTED GROWTH:
18% turnover
ESTABLISHED:
1983
NUMBER OF STAFF:
450
LOCATIONS:
Bedford (UK), Lutterworth (UK) and Chomutov (Czech Republic)
MARKETS:
Industrial Electronics – Process Control, Industrial Automation, Test & Measurement, and Laboratory & Scientific.