DRIVING ELECTRIC TECHNOLOGY 
Fears over a climate emergency are driving change across the transport industry – and Magtec is at the vanguard of the technology needed to make it happen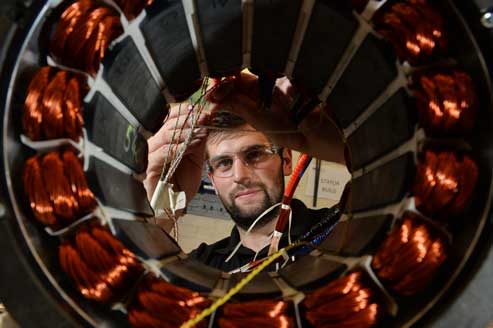 Founded by director Marcus Jenkins, Magtec is the UK's leading designer and manufacturer of electric vehicle drive systems and is the technology partner for a growing number of pioneering projects to reduce harmful emissions and improve air quality.
In its home city of Sheffield, Magtec has started trials of electric bin lorries powered by energy produced from the waste they collect. The 26-tonne vehicles have zero emissions, produce no air pollution and are powerful enough to negotiate Sheffield's seven hills.
The project caught the attention of Prime Minister Boris Johnson, who referred to it as "a world-first initiative" in his keynote speech to the Convention of the North. Westminster City Council is also trialling electric bin lorries powered by Magtec as part of the capital's efforts to cut emissions.
OEM interest 
Orders from OEMs are increasing. Swedish start-up Volta Trucks chose Magtec to design and manufacture the electric drive system for its prototype truck, which will be unveiled later this year.
Volta is developing fully electric trucks for commercial use in and around urban areas. Beyond reducing environmental impacts, the removal of bulky diesel engines has allowed Volta Trucks to radically redesign its vehicles, ensuring increased safety for cyclists and pedestrians.
In partnership with leasing company Angel Trains, Magtec is on track to deliver the rail industry's first conversion of a diesel multiple unit to hybrid drive. The new unit promises improved fuel efficiency and performance with lower emissions.
Other pioneering projects include the UK's first electric 7.5 tonne commercial vehicles for the urban daily deliveries market and the electric drivetrain for the world's first autonomous 26-tonne truck.
Jobs 
Demand for the company's technology is creating new jobs. Magtec currently employs nearly 100 people – including a larger than average proportion of women for the engineering sector – and is recruiting for another 20.
Andrew Gilligan, UK managing director, said: "We have many opportunities for ambitious and energetic people who want to grow with our business.
"As climate change rises up the social and political agenda, Magtec has the potential to be a world leader in electric vehicle drive systems.
"This is a high-tech growth company with an ambitious vision of the future which puts UK innovation at the centre of the global market for commercial electric vehicles."