2020 will be an exciting year for Shropshirebased Protolabs. The world's fastest digital manufacturer of custom prototypes and lowvolume production parts is tapping into the growing demand for 'speed to market' by completing an ambitious £5m expansion plan at its European headquarters in Telford.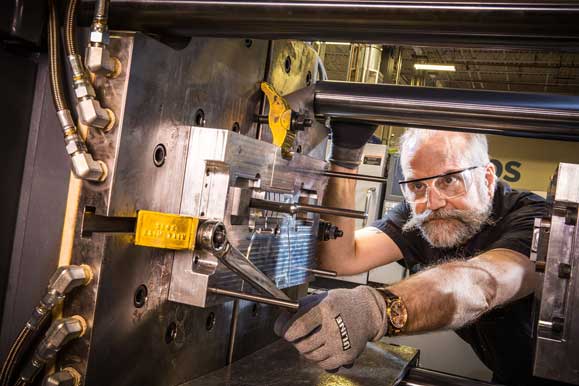 The company, which works with hundreds of customers across a range of sectors including automotive, aerospace, medical, electronics and heavy industry, will shortly start moving in new machinery and equipment to its purpose-built extension in Halesfield. An additional 50,000 sq. ft. has been created that will house at least 50 more CNC machines and a further 20 injection moulding presses.
Bjoern Klaas, Vice President and Managing Director of Protolabs Europe, commented: "The focus now, more than ever, is on speed and making sure new products and components are either first to market or ready when the end customer needs them.
"We are ideally set-up to meet this requirement, with a combination of our design and analysis team, bespoke production software and, after the expansion is complete, around 300 CNC milling, CNC turning and plastic injection moulding sampling and production machines at our disposal."
He continued: "Digital manufacturing is one of industry's biggest opportunities and, in addition to these capabilities, we will also be introducing new services and materials in injection moulding and 3D printing.
"This will give engineers the opportunity to be even more creative in the way they make lightweight parts, solve long-term issues for society and bring new technology to market." Operating from manufacturing facilities across three continents, Protolabs works with customers to accelerate product development, reduce costs and optimise supply chains.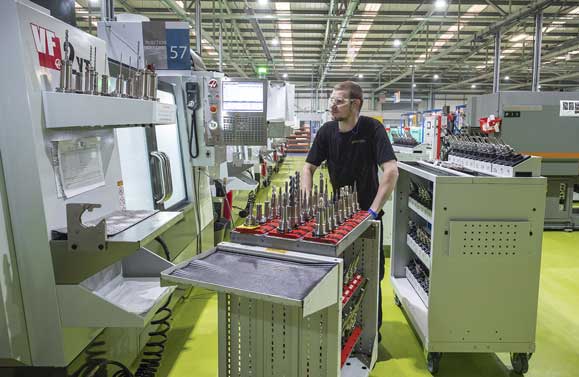 Customers upload their 3D CAD drawings to www.protolabs.co.uk, where customised software reviews models and emails an interactive quote with real time pricing and design analysis from a 20-strong team in the UK.
The company, which recently won the Queen's Award for International Trade for the third time, typically produces 1 to 50+ 3D printed parts in 1 to 7 days, 1 to 200+ CNC machined parts in 1 to 3 days and 25 to 10,000+ injection moulded parts in 1 to 15 days.
Lee Ball, General Manager at Protolabs' Telford facility, went on to add: "Demand for digital manufacturing will only grow and, by 2030, I can imagine a scenario where parts are made even faster than they are today, in materials we haven't even tested yet. The desire for more rapid product development, lighter parts and more complex designs will have stretched the imagination of even our most creative designers and engineers.
"Our latest investment will see us continue to create further employment opportunities for the region, which is great news for Shropshire, a place we are very proud to call home to our UK and European HQ.
"We have access to lots of highly skilled people in the region and it is quite fitting that we are located near the birthplace of industry, as we continue to forge the next industrial revolution."
THE RACE TO ELECTRIFICATION      
The UK's automotive industry is doing more than its European counterparts to help tackle climate change, according to research by Protolabs. Domestic car makers and automotive suppliers are investing more in electrification and alternative powertrain solutions than their competitors in Europe. 
Figures taken from 'The Innovation Race' – a report that examines the challenges and opportunities faced by Europe's car makers – show nearly half of the UK's auto firms (46%) are committing significant resources to exploring new possibilities in electric and hybrid vehicles, compared to just 34% in their nearest rivals Germany. 
The UK also appears to be leading the field in pioneering new approaches to fuel efficiency (34%) and recognising the potential in developing autonomous parts and vehicles. "You can see from the scale of recent global protests how important protecting our environment is and it is reassuring to see the automotive industry is meeting the challenge head-on," pointed out Peter Richards, Marketing Director at Protolabs. 
"The UK, in particular, is outstripping the rest of its European rivals in its efforts to develop and identify new powertrain solutions that deliver better fuel efficiency yet retain the same driving performance motorists expect. 
"We are living in a period of unprecedented change, but with change comes opportunity and if the UK continues to seize the electrification and new powertrain agenda then it could become one of the world leaders in this technology. 
"As always, speed to market is essential and making sure car makers, suppliers and engineering consultancies have access to services that can deliver prototypes and low to medium parts quickly will be increasingly important." 
WEBSITE: www.protolabs.co.uk