The UK Manufacturing Review 2019/20 is built on contributions from a range of professional writers and experts in their fields. They are listed alphabetically here. 
NORTH EAST 
Graeme Anderson is a highly experienced journalist, who has written for every major newspaper in the North East but spent the majority of his career at The Sunderland Echo. He now runs GSA Media, his own PR and marketing company, and deals with businesses large and small, across the region.
SCOTLAND 
Erikka Askeland is an awardwinning journalist with close to 20 years of experience writing about business, industry and economic issues in Scotland and the North of England.
AUTOMOTIVE 
David Bailey is Professor of Business Economics at the Birmingham Business School, University of Birmingham, UK and an ESRC 'UK in a Changing Europe Senior Fellow'. He has written extensively on industrial and regional policy, especially in relation to manufacturing and the auto industry. His latest co-edited book 'Carmageddon? Brexit and Beyond for UK Auto' was published in January 2020 by Bite-Sized Books. Tweet him @dgbailey
PHARMACEUTICALS 
Marc Beishon is a writer and editor specialising in science, technology, health and business topics. He was managing editor of New Scientist and since pursuing a freelance career has covered extensively fields such as internet, media and telecommunications policy, cancer treatment and drug development, pharmacy, healthcare policy, and sales and marketing for business professionals.
NORTH-WEST 
Rupert Cornford is an experienced business journalist, magazine editor and interviewer. He has worked for UBM and the Press Association. He spent two years with ITP Publishing in Dubai as a features' writer, editor and photographer before returning to the UK. He spent eight years at Insider Media in Manchester as an editor, for whom he interviewed leading figures from the business and political community. In 2018 he co-founded Story Publishing, an editorial, research and podcasting business.
MODULAR CONSTRUCTION 
Denise Chevin specialises in the built environment and utilities. She has edited a number of leading publications, including Building Magazine; Housing Today; and Infrastructure Intelligence. Current roles including Intelligence Editor for Utility Week and rapporteur for the All-Party Parliamentary Group for Excellence in the Built Environment, for which she has authored seven reports. She is a policy advisor for the Construction Industry Council.
PLASTICS 
Nick Cliffe Nick is Deputy Director for the Smart Sustainable Plastic Packaging Challenge at Innovate UK, part of the Industrial Strategy Challenge Fund. It will support research and innovation to deliver a circular economy for plastics in the UK. He previously worked for Closed Loop Recycling in Dagenham, East London, and for Closed Loop Environmental Solutions, its spin-out consultancy business. He has also worked at Green- Works; the Forest Stewardship Council; and Storebrand Investments.
ENERGY 
Brian Davis is a PPA award winning technical and business writer. He has contributed to numerous magazines including Petroleum Review, The Engineer, Professional Engineering and The Manufacturer. His main areas of focus are energy, renewables, AI and advanced manufacturing.
SOUTH-EAST 
Richard Fenton worked for many years as an engineer in the automotive industry, turning to writing and editing some 30 years ago. He has written for manifold publications and websites when not restoring old cars and motorcycles. He is currently writing articles and a book on the rise of electric, fuel cell and autonomous vehicles, and new mobility solutions in general.
SOUTH-WEST 
Steve Gerry MBA is a freelance business and economic development consultant. Since 2008 he has been Secretary & Treasurer of the Plymouth Manufacturers' Group. He is a non-executive director of the South West Business Council and a past Board Member of NHS Plymouth Primary Care Trust and Guinness Hermitage Housing Association's SW Area Committee. He worked for 24 years in the electricity supply industry, with SW Electricity plc, was Business Development Manager with South West Enterprise Ltd (SWEL) and was Executive Partnership Director of Plymouth 2020 Local Strategic Partnership.
NORTHERN IRELAND 
Gerard Cowan writes about defence, aerospace and finance. His work has appeared in The Wall Street Journal; Fortune; Jane's; and other titles. In 2015, HarperCollins published The Machinery, the first novel of a fantasy trilogy. He can be found on Twitter @GerrardCowan
BATTERIES 
Tony Harper is the Challenge Director for the Faraday Battery Challenge at UK Research and Innovation. He was previously Director of Research Engineering for Jaguar Land Rover, who he joined in 1986 from Imperial College London as a Graduate Engineer. He worked on the first Airbag-based passive safety systems and on sports car concepts, including the first XK8. He was appointed as head of Jaguar's Vehicle Engineering team responsible for Concept Design, Packaging, Aerodynamics and Vehicle Computer Aided Engineering in 1999, and joined JLR's combined Product Development Operations as head of the Research and Advanced group in 2006. He has worked closely with the EPSRC and Innovate UK on several large, strategic projects on Electrification and Autonomy.
TEXTILES 
Kate Hills spent 20 years as a designer and buyer for leading brands including Burberry and M&S. She set up the 'Make it British' website and show to promote UK manufacturing and brands. She is a regular media commenter on the textile industry.
WALES 
Wyn Jenkins, former editor of Swansea Business Life, is now managing director of Seren Global Media publishing company.
ADDITIVE MANUFACTURING 
Candice Majewski is a senior lecturer at The University of Sheffield. She has almost 20 years' experience in AM research, with a focus on polymer material and process improvements. In 2011 she was awarded the International Outstanding Young Researcher in Freeform and Additive Manufacturing Award. She even had her wedding flowers produced by AM.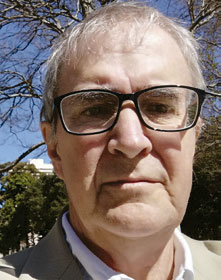 EDITOR 
Ruari McCallion has been writing about business, industry and manufacturing for over 20 years. His interests include automotive, Industry 4.0, aerospace and nanotech. He is Editor of the UK Manufacturing Review, contributing editor to a number of other journals and also publishes historical fantasy novels set in the Dark Ages.
AEROSPACE AND DEFENCE 
Murdo Morrison is head of strategic content for Flightglobal and editor of Flight Daily News. He was editor of Flight International between 2001 and 2015.
ELECTRONICS 
Jonathan Newell is an experienced broadcast and technical journalist specialising in UK engineering and manufacturing. He edits Environmental Engineering magazine.
ADVANCED MATERIALS 
Lien Ngo is Innovation Lead for Advanced Materials at Innovate UK. She is responsible for helping businesses exploit completely novel substances, such as two-dimensional materials and nanomaterials, as well existing materials, such as highperforming composites and light metal alloys.
MARINE 
Dennis O'Neill's 30-year career has seen him write extensively for most of the UK's leading marine titles, including Yachting Monthly and Yachting World. He is considered to be one of the country's leading maritime journalists. He is also former editor of Marine Professional, European Boatbuilder and Superyacht Business.
FOOD & DRINK 
Charles Orton-Jones was editor of Euro Business magazine and is a past recipient of the PPA Business Journalist of the Year award. He covers economics, data analytics and the Internet of Things for newspapers and magazines across Europe.
RAIL INDUSTRY AND CLOUD MANUFACTURING 
Andy Pye has written about UK manufacturing industry for nearly 40 years. He is managing editor of Controls, Drives and Automation.
EAST ANGLIA 
Huw Sayer is an experienced business writer and editor, based in London. He is also a communications consultant and social media trainer.
WEST MIDLANDS 
Duncan Tift is an awardwinning business journalist with more than 30 years' experience working in the Midlands region. A former Manufacturing and Emerging Markets editor on a leading regional title, his specialisms include the automotive industry and its supply chain.
EAST MIDLANDS 
Mark Venables is a publisher, writer and editor with over 20 years of experience. His specialities include design, manufacturing, sustainability and the built environment.
YORKSHIRE 
David Walsh is Business Editor of The Star newspaper in Sheffield. He writes on business and finance and has contributed to publications ranging from The Sunday Times to Sport Rider magazine.
SPACE & SATELLITES 
Malcolm Wheatley is an experienced writer and editor who covers information technology, enterprise software, engineering, manufacturing, Big Data and the Internet of Things, among other subjects. He is a visiting Fellow at Cranfield University.
COPYRIGHT PROTECTION NOTICE 
This publication is copyright under the Berne Convention and the Universal Copyright Convention. Neither this publication nor any part of it may be reproduced, stored in a retrieval system or transmitted in any form or by any means, electronic, mechanical, photocopying, recording or otherwise without the prior permission of Stirling Media Ltd. Address enquiries to the editor at the address below. 
The publishers are not responsible for any statement made in this publication. Opinions expressed are those of the authors, or contributors to the discussion, and not necessarily those of Stirling Media Ltd. 
The UK Manufacturing Review is published once a year by Stirling Media. For this edition and back issues, please contact Stirling Media at their registered office:Unit 6, Old Smithy Court, 80 Station Road, Hampton, London TW12 2AX 
T:+44 (0) 208 617 9517 
M:+44 (0) 7920 179496 
© 2020. Stirling Media Ltd. All rights reserved